Engaging learners, transforming lives, building community. That's the new mission statement the University of the Fraser Valley adopted in mid-2019. Looking back on the year, UFV achieved success in all three mission categories.
Highlights of 2019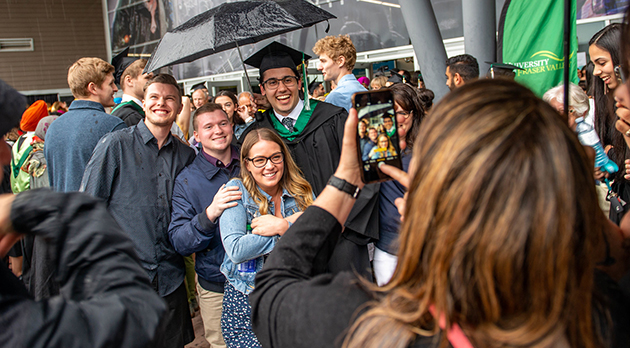 More than 2,400 credentials were awarded at Convocation ceremonies in June. Top student medal winners were Matthew Harty, Leanne Julian, Perrin Waldock, and Maria-Tatiana Pauna. UFV bestowed honorary degrees on community builder John Jansen, novelist Esi Edugyan, entrepreneur Anthony von Mandl, and master carver Francis Horne Sr.
Faculty and staff award winners included Michelle Vandepol and Josephine Charlie (Staff Excellence), Joel Feenstra (Teaching Excellence), Irwin Cohen (Research Excellence), Seonaigh MacPherson (Faculty Service Excellence), Adrienne Chan (Inspirational Leadership) and the Long Night Against Procrastination crew (Teamwork). John Redekop of Abbotsford received the Betty Urquhart Community Service Award for his volunteer fundraising work for a variety of local causes.
UFV was named one of BC's Top Employers for the fifth year straight.
Student achievements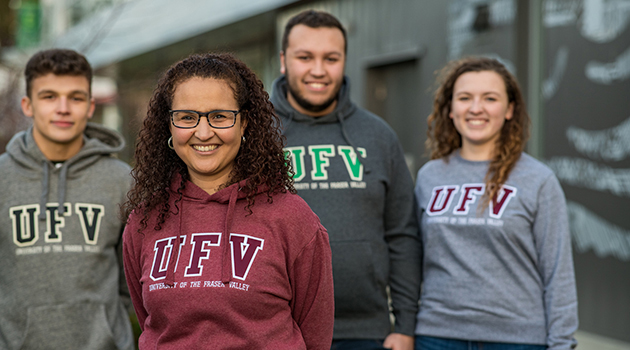 Students excelled in a variety of ways throughout the academic year. Queen Elizabeth Scholars travelled on internships in Africa, working with partner agencies on projects focused on urban management and planning.
CityStudio Abbotsford saw students in class groups take on a project designed to address a real, practical challenge presented to them by the City of Abbotsford. Twice a year, UFV students involved in the CityStudio Abbotsford partnership bring their projects to City Hall for Hubbub, a combination show-and-tell and Survivor-style competition. And in the fall semester, a pilot project saw a similar partnership launched with the City of Chilliwack.
The Young family of Mission had four members studying simultaneously at UFV, including mom Gina and siblings Sam, Hannah, and Eli.
Criminal Justice students presented at the UN Commission on the Status of Women in New York.
Visual Arts student Chantalle Trainor-Matties designed a unique otter-themed Indigenous art T-Shirt for Pink Shirt Day that sold out in days.
Sales students from the School of Business helped drive a membership sales campaign for the Abbotsford Chamber of Commerce.
And Visual Arts, Creative Writing, and Theatre students combined to show off their talents at the Interpret Festival.
Student research was highlighted at microlectures, Student Research day, and the Undergraduate Research Excellence awards night.
Programs and Schools
The Theatre department and the Visual Arts department united to form the School of Creative Arts (SoCA) within the UFV College of Arts. Heather Davis-Fisch was named Director of the new school.
UFV is also launching a School of Land Use and Environmental Change, bringing together several land-use focused programs, including the Bachelor of Arts in Geography, Bachelor of Science in Physical Geography, Bachelor of Environmental Studies, and Bachelor of Agriculture Science. This school will be housed in the Faculty of Science, and will result in interdisciplinary opportunities around the themes of the environment and land use. Jonathan Hughes will be Director of this new school.
UFV launched the first for-credit, graduate program in mindfulness in Canada.
McDonald's Canada and UFV teamed up to create new pathways for McDonald's restaurant managers to pursue university credentials.
UFV also announced plans for a Digital Manufacturing diploma program, which will focus on 3D modelling, 3D printing, Computer Numerical Controlled (CNC) machines, and fabrication.
Alumni and donors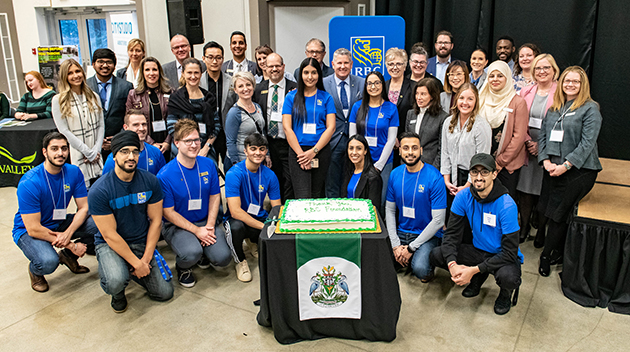 UFV alumni and donors contributed to growth and community building at UFV, locally, and around the world.
The RBC Future Launch program will help students integrate career-related planning and experience into their education, through a donation of $300,000 over several years to support the newly created UFV Centre for Experiential and Career Education.
UFV's annual Town & Gown event brought in more than $245,000 to support student scholarships, bursaries, and enhanced learning opportunities, including a $100,000 donation from Fran Vanderpol and her Oikodome Foundation, and funding for 190 new $750 scholarships from a variety of donors. Anita Nielsen, Executive Director of Advancement & Alumni Relations, announced the formal launch of the UFV Ripple Makers donor recognition society.
Jesse Wegenast, who earned a BA in geography in 2012, was named Young Distinguished Alumni for 2019 for his wide-ranging and extensive community work.
2019 Distinguished Alumni award winner Sonya Sangster's UFV education gave her the wings she needed to fly airplanes and to be a leader in helping women in the international development field.
Alumnus Mo Dhaliwal has taken his creative energy and the business skills he picked up at UFV to build Skyrocket, a successful digital branding agency in Vancouver.
Brenda Crabtree is an anthropology alumna who has found success as an Indigenous basket weaver and director of Aboriginal programs at Emily Carr University of Art and Design. Along with her husband Tom, a BC Supreme Court Justice and son of UFV's first board vice chair, she funds bursaries for current UFV students.
UFV's Applied Business Technology program helped former trucker Bill Chivers turn his life around when a shoulder injury meant he needed to find a new line of work as a customer service representative.
Community outreach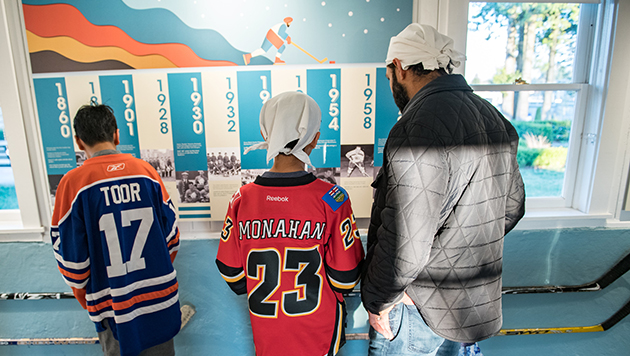 As always, UFV connected with its community in myriad ways.
We Are Hockey, an exhibit presented by the South Asian Studies Institute, examined the inaccurate stereotype of hockey as a 'whites only' sport in Canada, and highlighted the careers of several hockey players of colour from a variety of cultural backgrounds.
Honorary degree recipient Sophie Schmidt, two-time Olympic medalist and member of the Canadian women's national soccer team, visited UFV for a popular question-and-answer session, with many youth players in attendance.
Guest lectures, summer camps, a literary festival, Cascade sports events, and theatre plays were just some of the many community activities on the UFV calendar of events over the course of 2019.
Facilities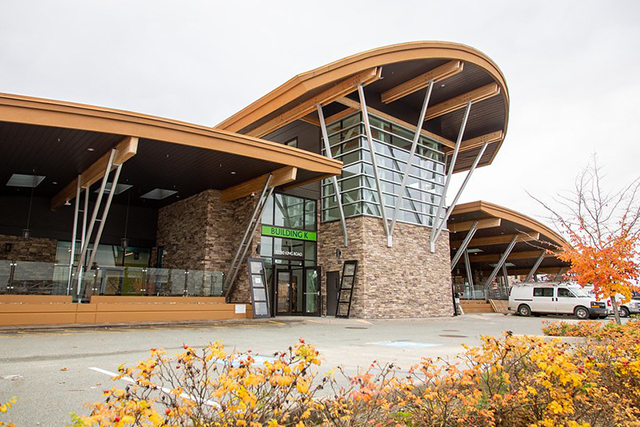 On the facilities and campus development front, UFV opened Building K in the former Phoenix building, which it purchased from the Esposito family in 2018. The building is now home to modern, technologically savvy classrooms and labs. The university is using it as "swing space" to accommodate students and faculty displaced by a major renewal project in part of Building A on the Abbotsford campus. Once Building A is completed, the renewal project will move to Building D.
UFV students and employees are also enjoying better pedestrian access to parts of Abbotsford with the opening of the Salton Street Bridge over the freeway.
Administration and faculty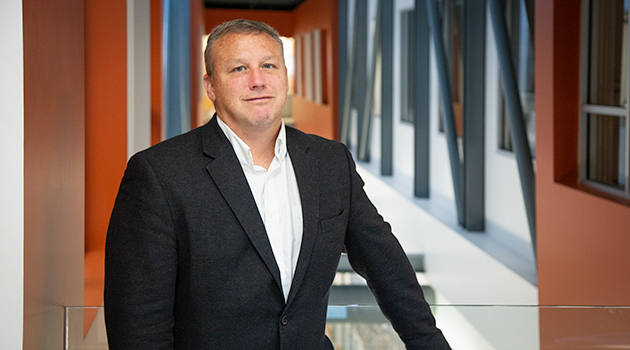 On the administrative side, James Mandigo joined UFV as Provost and VP Administration. Eric Davis was celebrated for his time in that role and returned after an administrative leave as Special Advisor to the President.
Alisa Webb was appointed Vice-President, Students after holding the job on an interim basis.
Justin P. Goodrich was elected as Chairperson of the UFV Board of Governors.
Linda Pardy took on the role of Associate Dean of Students in the College of Arts.
Shyam Vyas was appointed President of UFV India.
Lenore Newman, Canada Research Chair in Food Security and the Environment and Director of the Food and Agriculture Institute at UFV, was appointed by the government of British Columbia to a newly created Food Security Task Force. She also released a new book about food extinction, titled Lost Feast.
Keith Carlson joined UFV as Canada Research Chair in Indigenous and Community-Engaged History. The federally funded Canada Research Chair program is designed to recruit and retain the world's most innovative scholars to Canadian universities and fund ground-breaking research which has positive, tangible impacts on Canadian lives.
Dean of Science Lucy Lee continued her decades-long groundbreaking work on fish-cell lines, now housed in a new lab on UFV's Abbotsford campus.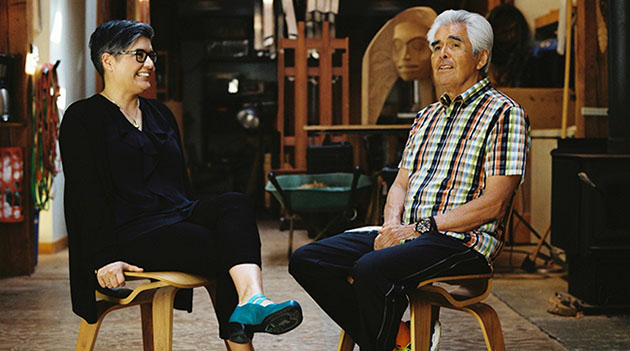 Heather McAlpine of the English department published a book titled Emblematic Strategies in Pre-Raphaelite Literature.
Education professor Sara Davidson teamed up with her father, Haida artist Robert Davidson, to write Potlatch and Pedagogy, a book about nine principles that form a foundation of teaching and learning in Haida culture.
Student Services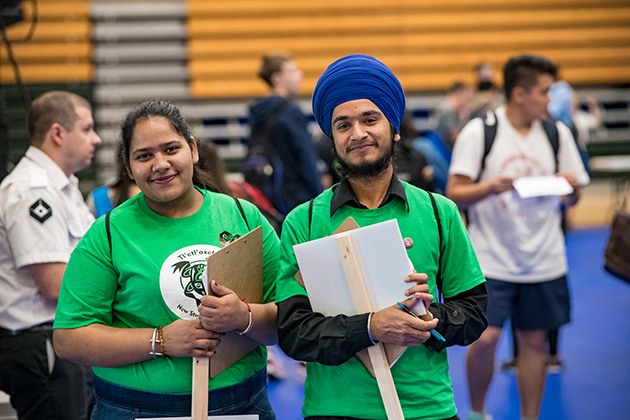 In the Student Services area, UFV held a successful New Student Orientation and set new records for attendance. The orientation event featured UFV's first-ever Invocation ceremony, a welcome event with a bit of pomp and circumstance, designed to mirror the look and feel of Convocation.
UFV and the Student Union Society teamed up to present the first annual Pride Conference in early September.
And many people (and a few dogs) turned out to wish Mac the Dog well in his retirement after 13 years of helping students cope with stress as the first-ever therapy dog to work in a non-residential setting.