"I was a little nervous as the campaign was drawing to a close, but they did it once again."
That was the summary from Abbotsford Chamber of Commerce business development manager Matt Langdon, referring to a revenue goal set by students in this year's Bus 221 Advanced Selling course at the University of the Fraser Valley.
For the past six years, students in the course have participated in a hands-on membership sales campaign for the Abbotsford Chamber of Commerce.
Working in small teams, the students compete to sell the most annual memberships to Abbotsford businesses with the winning team earning a special prize: their names on the Top Performer's Cup and a high grade in the course taught by Mark Breedvled, an associate professor in the School of Business.
"Since the sales competition first started in 2014, our students have sold more than $27,000 in memberships, and each year the students manage to sell more memberships than the class the year before them," said Breedveld. "This year's class sold an amazing $7,347 in memberships, up 9% over 2018 – and those students had exceeded the previous year's students by 37%.  I'm very impressed with them. It was very satisfying to see them reach their goal."
As was the case last year, the students' sales contributed towards the highest month in membership sales since the Abbotsford Chamber was formed and registered decades ago.
This year's winning team was made up of Harry Kaler, Dhruv Gogna, Bailey Malchy and Michaela Reist. Team member Dhruv Gogna was the top individual performer in the class, with personal sales revenues of $1,616.
The top performer in last year's campaign, Brady Lawlor, was a high performer of a different kind on April 4. From an initial pool of more than 4,000 university students from across Canada, Lawlor made it all the way to the final round of the Great Canadian Sales Competition in Toronto at the headquarters of Google Canada. Competing against 24 other finalists, Lawlor had to conduct an impromptu sales presentation in front of an audience made up of sales executives from some of Canada's largest companies, including CP Rail, SAP and Finning.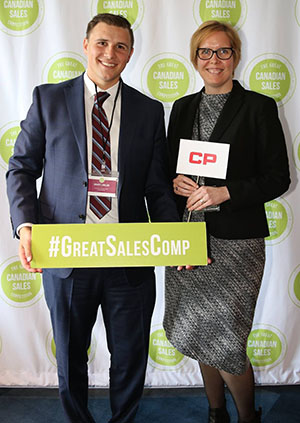 "Entering this contest was one of the best decisions I have made. The companies involved were all incredibly impressive and I would recommend my fellow students to check this competition out."
Although Lawlor performed admirably, he did not make it to the last round of five students. But as he stoically said, "Making it to the finals and having the opportunity to meet so many impressive people was a prize on its own. The other competitors were all so talented and it was truly special to be around bright, motivated and like-minded people looking to better their future. That being said, I'd be lying if I didn't say I was momentarily upset with not winning, but with each networking opportunity I had … I felt more and more like a winner."
As important as selling is to business success, learning how to sell is not something that is typically taught in university business programs.  But that's not the case at the UFV School of Business.  A different approach is taken, and the positive results are very apparent.
The sales campaign carried out for the Abbotsford Chamber and students' participation in the Great Canadian Sales Competition are examples of the applied education provided in UFV's Bachelor of Business Administration (BBA) degree. Advanced Selling is one of three courses in the BBA focused on professional selling, making up what is referred to as the sales track within the Marketing major. UFV is the only public university in British Columbia to provide such depth in sales education, and it is one of the distinguishing features of UFV's BBA program.