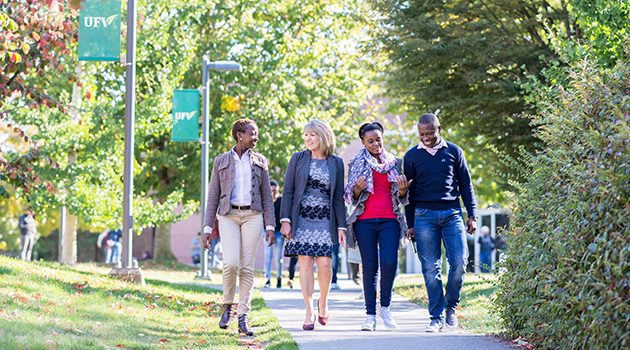 Recently, UFV student Maegan McKay spoke about her experience as a Queen Elizabeth Scholar (QES) at a Government House reception in Victoria. The third-year Global Development Studies (GDS) was one of eight QES alumni at the event marking five years of the QES program. McKay worked in Kenya at Nairobi's United Nations partnership development office in her time with the program. She was featured in an article about QES in this year's Skookum magazine.
UFV'S PARTICIPATION IN THE QUEEN ELIZABETH SCHOLARS PROGRAM OFFERS GLOBAL OPPORTUNITIES FOR CANADIAN AND AFRICAN STUDENTS
From Uganda's dusty roadside refugee camp classrooms to Kenya's frenetic concrete jungles, Cherie Enns and UFV's Queen Elizabeth Scholars are changing lives.
Including their own.
"It's a very significant program that we at UFV are fortunate to be part of," says Enns, an associate professor in UFV's Geography and the Environment department and the driving force behind UFV's Queen Elizabeth Scholarship program.
"We're in good company with many other prestigious and larger universities to have been chosen to be part of this."
There are 20 universities from across Canada that participate in the 2017 QES program. In the 2016-2017 period, 249 Canadian students participated as Queen Elizabeth Scholars in various countries.
The daughter of missionaries from Ontario, Enns spent four years in Kenya by the time she was 15. Her passion and respect for Kenya and its people was sparked by this experience and has never wavered, but she now approaches her relationship with them from a more reciprocal perspective.
"The narrative is changing in terms of how we learn and what relationships should look like and reciprocity. It should never be about us going to help them; it's relationship building and learning together," says Enns, recipient of UFV's 2018 Teaching Excellence award.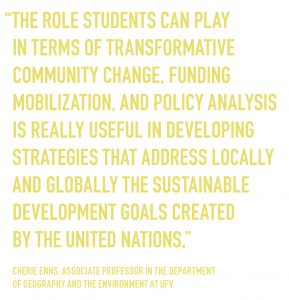 Throughout the QES program's first three-year cycle at UFV, eight East African scholars conducted research here, and 30 UFV students were placed in internships in Nairobi and Dar es Salaam. The incoming and outgoing scholars undertake a broad variety of projects that seek to address local, national, and global issues through cultural exchange and knowledge transfer. From facilitating local markets to learning about the urban food system in Abbotsford, to building partnerships and proposals for the development of child-friendly spaces in Nairobi, the QES program provides reciprocal opportunities for students to learn and help in new contexts.
The bulk of funding each $8,000 internship and study experience (including travel, accommodation, food, and expenses) comes from Universities Canada's Rideau Hall Foundation, with $1,000 of each covered by a UFV-funded scholarship.
"Our students have been part of really transformative projects that are still ongoing after they return from their three-month internships," Enns says, adding many advance into graduate work, in locations such as New York, The Hague, and Oxford, England.
One of the recent Kenyan participants, Sherlyne Omangi, was recently offered a research fellowship in sustainable urbanization by Stockholm Environment Institute-Africa.
"I believe the incredible experience and exposure that I acquired from the QES Scholarship and UFV contributed in a major way towards my selection. I would like to thank UFV so much for the opportunity as it has created and opened doors for me in terms of my profession, career and education," Omangi noted.
While the first round of the QE Scholars program was focused on food security, Enns helped acquire another funding cycle, expanding the overseas options to India and Tanzania and adding urban management and policy research initiatives that seek to build cities that are safe and equitable for all populations — meaning an additional 36 UFV and international students can immerse themselves in the QES experience.
One of those students is Maegan McKay, a third-year Global Development Studies (GDS) major who previously travelled to Ethiopia with Abbotsford's Run For Water organization, after backpacking through Australia and New Zealand. While the GDS degree McKay is taking ties directly to international work, QE scholars come from a diverse cross-section of disciplines, ranging from business to social work and early childhood education.
"Kenya was definitely a leap from what I had done; none of the travelling I'd done before could compare to this," she says.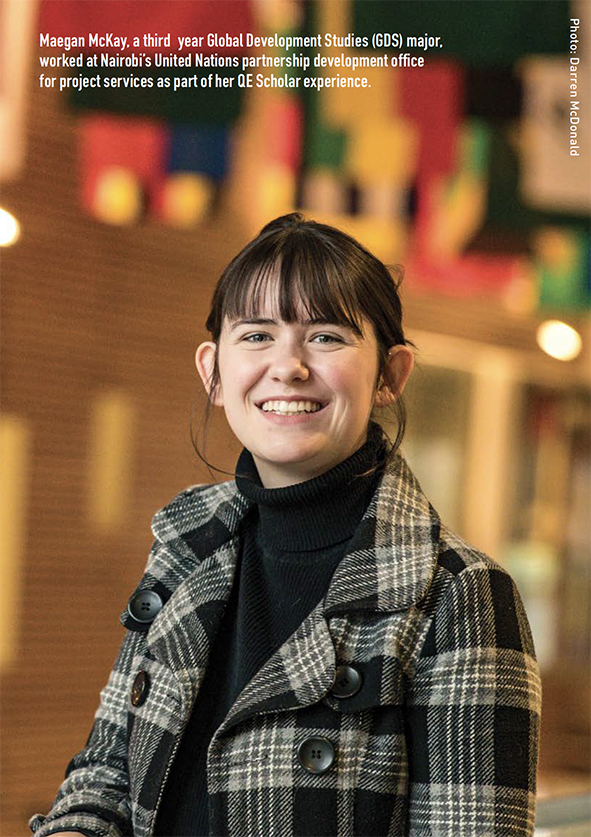 The day after her 24-hour flight landed, McKay started working at Nairobi's United Nations partnership development office for project services, writing reports and proposals on topics ranging from water and sanitation initiatives in the countries surrounding Kenya, to food security and good governance.
"Nairobi is a huge international business hub, so you really get this feeling that everything needs to get done fast. People are busy; it seems like everybody has something important to do."
Including her.
"It felt like Wolf of Wall Street, but at a more professional level. You know everyone was working in a pressure cooker and you needed to get your work done to keep up. Definitely big city vibes," she says.
"When I went there I didn't know how to write a proposal. They teach you how to do it. They really empower you into the role, but the skills that you bring in are important, too. And as long as you have a teachable attitude and you're a passionate person who enjoys learning, you're going to love it."
A community-minded recreational hockey player who volunteers at Abbotsford Community School's youth programs, McKay appreciates the value in having the African students thread themselves into Abbotsford during their QES experience.
Local businesses like Fieldhouse Brewing and Old Hand Coffee have embraced the opportunity for reciprocal knowledge sharing, hosting special events and talking to the QE Scholars about food culture and its impact on community. In that vein, visiting QE scholars from Kenya worked with Valley Food and Farm Collective in Abbotsford to launch an innovative pop-up market in the Rail District. The team returned to East Africa with the experience and blueprint for planning a community-market in their cities.
Cherie Enns and Josh Vanderheide, owner of Fieldhouse Brewing, were co-instructors for this innovative course. Students from a range of disciplines spent a six-week summer semester in a special studio course planning the market for Abbotsford. It was a smashing success with plans to offer it again this year.
"These students have an opportunity to be integrated in research related to urban systems as well as relationship building," adds Enns, who recently received her doctorate in policy analysis and program management from the Institute of Human Settlement Studies, Ardhi University in Tanzania.
Enns began her doctorate through a German institution, but switched in part because, "If we're really going to decolonize the curriculum as it relates to our global understanding I feel we should look for opportunities to study under experts based in a specific region."
Not to mention teaching those who otherwise wouldn't have the opportunity. By establishing the Eminus Academy (a partnership between UFV, the UN-Habitat and Eliademy, a free e-learning platform that allows educators and students to create, share, and manage online courses) Enns is able to partner with a local youth organization to offer youth living in a refugee settlement in Uganda the opportunity to take online courses to help improve their education and prospects.
While in Kenya, Maegan McKay combined her professional experience with time for personal and social growth by touring the country, going on safari, and visiting the beaches. She feels being a QE scholar is an opportunity all UFV students should consider.
"If you feel nervous, or afraid or that you just can't do this, just remember you have a community, you have people around you who have a shared experience who will help you and who want you to enjoy yourself," she says.
"It's really the stuff of dreams to be put in a situation like that."