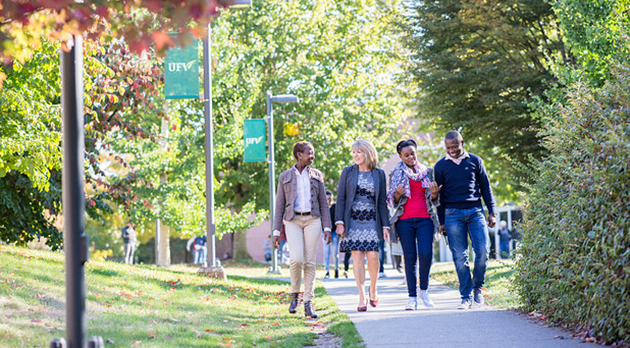 20 Canadian universities awarded $5.8M to cultivate next generation of global leadership
(OTTAWA, ON) February 22, 2018 – The most recent round of the Canadian Queen Elizabeth II Diamond Jubilee Scholarships program, often referred to as the Queen Elizabeth Scholars program (QES), will see $5.8 million of funding to support 650 students in 20 Canadian university-led projects. Undergraduate and graduate students will enrich their academic, professional and cross-cultural skills while contributing to global projects led by participating Canadian universities.
Now in its fourth year, the QES program is a collaborative initiative led by the Rideau Hall Foundation, Universities Canada and the Community Foundations of Canada, made possible thanks to contributions from the Government of Canada, provincial governments, the International Development Research Centre (IDRC), Social Sciences and Humanities Research Council (SSHRC), universities, and a wide range of private sector donors. Launched in 2014, the QES program has engaged 44 universities in every province, with funding that will enable, in total, 3,000 scholars to participate in this global exchange of talent.
Through this latest phase of the QES program, an estimated 650 Canadian and international students will undertake internships and research in Canada and abroad.
Through its share of the funding, approximately 30 UFV students will be funded for a three-month research internship in Kenya-Tanzania or India, according to Cherie Enns, an associate professor in UFV's Geography and the Environment department who coordinates the QES programming. There will also be funding for eight scholars from the same countries to come to UFV.
"This is our second round of funding and we will be wrapping up all of our placements from that round over the next few months," says Enns, who has run similar internship programs funded by other sources in earlier years.
Several of the students from earlier internships have gone on to graduate schools and career success.

This year's interns will host an evening recounting their experiences on Mon, March 5, at Field House Brewery in Abbotsford. The event will feature story-telling and research presentations from Nairobi, Kenya; Dar es Salaam, Tanzania; and the Fraser Valley of British Columbia. Hosted by UFV Queen Elizabeth II Diamond Jubilee Scholars, this open-house will showcase experiences examining food systems and sustainability on both a global scale and in local contexts. The event will feature interactive presentations from recent interns and special guests working to increase food security in Abbotsford at the community level. Special Guests include Abbotsford Community Services Day 1 Urban Farm Project.
Doors open at 6 pm — all ages welcome! Light refreshments will be provided.
The impact of having an educational experience overseas is life-changing; students who have studied or worked abroad often return with a new sense of self and purpose.  Moreover, it's becoming clear that the benefits of a global experience for Canadian students stand to impact our country's prosperity and growth.
"As Canada looks to advance economic and political relations internationally, we need our next generation of leaders and innovators to have global core competencies, including knowledge of business culture, language skills and intercultural competence," said Paul Davidson, President of Universities Canada.
Scholars participating in the QES program become part of a global network of leaders who continue to engage with their communities locally and around the world.
"The QES program has truly created a dynamic group of young people who are changing our world and are instrumental in enhancing the work of community foundations at home and abroad," said Andrew Chunilall, CEO of Community Foundations of Canada.
Please visit https://www.queenelizabethscholars.ca/news/ for a full list of participating universities and projects funded.
About Queen Elizabeth Scholars program
The Canadian Queen Elizabeth II Diamond Jubilee Scholarships program aims to mobilize a dynamic community of young global leaders across Canada and around the world to create lasting impacts both at home and abroad through cross-cultural exchanges encompassing international education, discovery and inquiry, and professional experiences. To learn more visit, www.queenelizabethscholars.ca.