When Hannah Young drove to her first day of classes at the University of the Fraser Valley in 2015, she was excited, but also feeling a little down.
Some of her friends had moved away to live on campus at larger far away universities and here she was carpooling from Mission to the Abbotsford campus… with her mom.
"I guess I felt in some ways that UFV wasn't a 'real' university and that by not leaving home I would be missing out on some experiences. What I found was the exact opposite. UFV gave me many great opportunities, support services, and experiences that I don't see my friends at those other universities having.
"I anticipated that I would find UFV extremely difficult academically, but because of the supported learning group option where we can go for extra tutoring sessions and the personal attention we receive by being in smaller classes, I was able to really focus and thrive. Plus, all the professors are really approachable and ready to give you academic and career advice."
And then there were the other opportunities available that Hannah has embraced with extreme enthusiasm.
She got involved with leadership activities and has travelled twice to the Canadian Student Leadership Conference. She dipped her toe into the world of academic research through the undergraduate thesis course available to kinesiology students.
She worked for Campus Recreation in a work-study position, helping to plan and promote fitness and recreation classes and drop-in activities.
And hundreds of new students were introduced to her in her current role as student engagement and transition assistant when she helped to lead and emcee new student orientation days.
Hannah's busy life at UFV is a family affair.
Not only did her mother Gina also enroll at UFV that fall of 2015, but her brother Sam joined them. Three years later brother Eli enrolled. So there are currently four Youngs attending UFV. Dad Scott is a firefighter, and there are two younger siblings, David and Rebecca, at home still in high school, so this is a busy bunch!
That much family togetherness can be a little stifling for young adults trying to spread their wings, but it has benefits too. For Eli, who doesn't have a car, there's almost always someone to catch a ride with and since he's enrolled in the Bachelor of Kinesiology like his sister, he can seek advice from someone who's been through first year already.
Hannah is definitely the most involved in co-curricular activities of the four family members currently studying at UFV. Getting involved is the one piece of advice she shares with her mother and brothers and every student she encounters.
"I always encourage people to get involved, try things and take the opportunities offered here at UFV. If you ask for and embrace opportunities, things will happen for you."
Hannah will be graduating from UFV with her mom this year. Her next goal is medical school or graduate studies in kinesiology and she has her applications in and her fingers crossed.
Sam takes a bit more of a laid-back approach to UFV life than Hannah, concentrating mostly on his studies as an English major (he's also considering adding a media and communication studies minor), and activities connected to it.
"I started out interested in the medical field and maybe becoming a doctor. I come from a family of professional helpers."
But a dislike for biology studies and a passion for writing sparked a change of direction for Sam.
"I discovered that I was quite good at writing and English, so I made that my major. I particularly enjoy the creative writing courses I've taken. I guess I'm the arts kid in a family of science kids!"
Sam hopes to break into freelance writing and is exploring the field of technical journalism. Even his way of funding his studies is creative — he works making skydiving videos produced rapidly right after the customer lands at Skydive Vancouver in Abbotsford.
"As soon as they land, the skydiving instructor rushes the SD card from the camera over to me and I edit and produce the video."
As for studying at the same university as two of his siblings and his mother?
"It's not as weird as I thought it would be."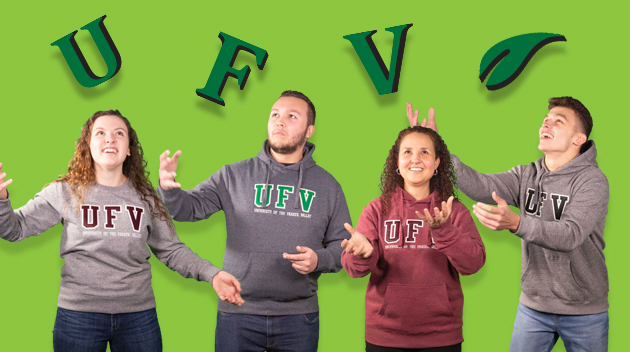 And then there's Eli. He's in his first year of studies, following big brother, big sister, and his mom over the bridge from Mission to UFV.
While Hannah hopes her kinesiology studies help get her into medical school, Eli is thinking of firefighting or teaching physical education as a career.
"I have great role models for both those careers — my dad and a few PE teachers who I really look up to."
He's finding studying kinesiology interesting because it is teaching him more about the theory and science behind the sports he has grown up playing and still has a passion for.
"I've been involved in sports my whole life — basketball, football, and volleyball. It's very interesting to learn more about nutrition and how to improve my athleticism — seeing the science and logic behind it all."
And while it's handy to have a big sister studying the same major, he stresses that his reason for enrolling in the Bachelor of Kinesiology degree was "not at all because Hannah was in it!"
But she's the one member of the family he runs into the most.
"If I go into the SUB, there she is, because she works there!"
And he does take some of her advice, such as attending supported learning groups to enhance his chances of success in his kinesiology courses.
For Gina, the mother of this group of scholars, it was seeing an empty nest on the horizon that inspired her to return to university to complete her degree. She's now in the Teacher Education cohort, finishing the final year of her Bachelor of Education.
In her pre-kids life back in Sarnia, Ontario, she completed a social services diploma at Lambton College and a year of university studies.
She went back to work as an educational assistant when the youngest of her five children entered Grade 2, and was intrigued by the teacher's role once she got a close look at it in the classroom setting.
"Some people suggested I would make a good teacher, but I was busy raising kids at that time."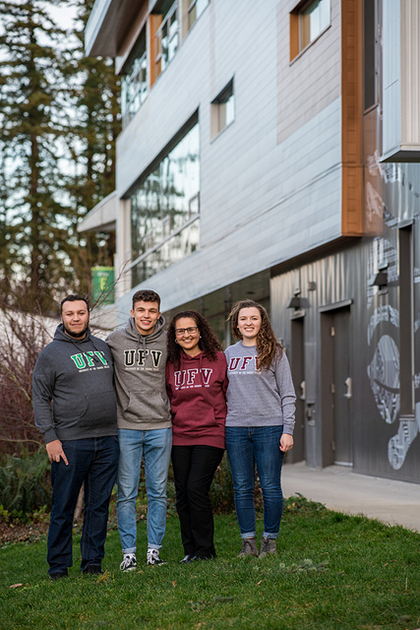 She attended a friend's convocation ceremony for teacher education, and was inspired.
Once the first two kids started talking about university studies, she decided to join them at UFV to complete her upper levels and other requirements for teacher education, completing a minor in sociology along the way.
"I started slowly, and then revved it up last year with three classes per semester."
She's often the oldest student in class, but found the other students to be very accepting.
"I will say that in one of my media and communications classes I had no idea about most of the popular culture references that the younger students were talking about."
With five kids at home and three of them in university with her, life is pretty hectic and dinner planning and carpooling can be a bit crazy. Friends and other parents have helped get her younger kids to after-school sports and activities, and her husband handles cooking when his shiftwork allows for it.
Gina's looking forward to graduating as a teacher this June, and is happy that she's doing it at the same time as her kids.
"As a family it's been great having us all at UFV at the same time. We can talk about our experiences and help the younger ones get going. The older ones are modeling responsible student behaviour for the younger ones."
She and her husband encourage the kids to take part in planning for and financing their education. As each one hits their mid-teens, they open an RESP to which the child is expected to contribute to through part-time jobs.
They are also encouraged to apply for scholarships. Hannah funded her first year by winning the Hollister Science and Technology Endowment Entrance Scholarship, funded by late donor Vic Hollister and UFV to help students from Mission to attend university.
So we may one day see six Young family alumni from UFV: Gina and all five of her children.
"UFV is a great option for affordability and accessibility. It makes this doable for a family with five children in the Fraser Valley."