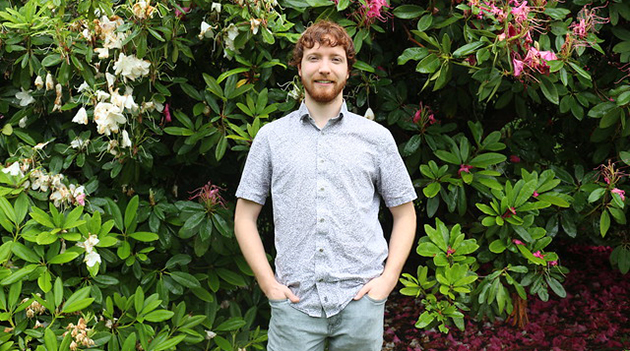 You could be forgiven for having a sense of déjà vu when hearing the name of the 2019 winner of the Governor General's silver medal at UFV, awarded to the top graduate in a bachelor's degree program.
That's because Perrin Waldock was also the 2018 winner of the Governor General's collegiate bronze medal, awarded to the top graduate in a diploma program.
Perrin is a double graduate from UFV. He took advantage of an option within the Bachelor of Science degree that allows physics majors to also complete the Engineering Physics in Mechatronics diploma, a two-year credential that can be taken on its own or blended in with a the physics degree.
The students in the mechatronics diploma work on real-life challenges, complete with nuts, bolts, circuitry, joysticks, and electronic transmitters. The program is the result of a concerted effort by the UFV Physics department to add an applied component to its menu
"It was very useful to combine the mechatronics diploma with the degree, because 90 percent of jobs in physics are experimental and require some applied skills," he notes. "I've also used it for practical projects around the house, such as a robot for my light switch if I don't want to get out of bed to turn off my light, and a fan in the shower that turns on if the humidity rises over a certain level."
Perrin earned a near-perfect grade point of 4.32 out of a possible 4.33, which is an almost straight A+ average, with one A keeping him from a perfect GPA.
Perrin completed several paid co-op work terms as he completed his physics degree, and this summer is working on a project to help develop a portable standard for high vacuum pressure measurements based off of fundamental constants.
"It involves trapping atoms using lasers and electromagnets and measuring how quickly they get knocked out of the trap. It's similar to how the second is now based off of Caesium, or how the meter is now based off how far light travels in a second," Perrin notes. "If you are making rockets or satellites it is important to know exactly how much pressure is present so that they are not dragged down to the ground by molecules."
After completing two credentials at UFV, Perrin is happy with his choice for his undergraduate education.
"The professors are here because they really enjoy teaching and the classes are small. They really go out of their way to help you. I would not have done nearly as well without their extra help getting through some very difficult courses."
Perrin estimates that he spent 20-30 hours a week outside of class working on professor Peter Mulhern's experimental methods in physics course.
"It was tough but then my summer job last year was directly related to what we covered in that course so I was well prepared."
Perrin is spending the summer working a physics-related research job and will formally start his Master of Applied Science in Engineering Physics at the University of British Columbia in the fall.
He plans to apply the skills and knowledge he acquires in the high-tech industry, focusing on lasers and electronics.
"There is going to be a lot of cool stuff happening in this sector. I expect to see a big increase in the ways this technology is used."
Eventually, he'd like to start his own company, doing something "cool and high tech" that will benefit humanity.
In addition to his professors, Perrin sends thanks to his parents for "putting up with me for the past 23 years" and his girlfriend for doing the same for the last couple of years.