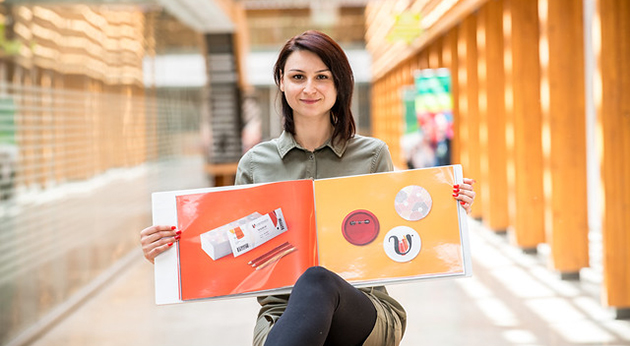 A Romanian-born multidisciplinary designer who found her passion after most peers were well into their careers, Maria-Tatiana Păuna is not your average student.
Then there's that GPA, a remarkable 4.23 that earns her UFV's 2019 Governor General's Bronze Medal as the highest-achieving student graduating from a diploma program — in this case, Graphic and Digital Design.
"I didn't even know I could draw until a little while ago, and I absolutely had no idea what graphic design was by the age of 29," she says.
She found her passion while employed at a Romanian cinema, working her way up from cashier to marketing coordinator. Armed with high-school English, she emigrated to Abbotsford in 2016 and almost immediately jumped into UFV's Graphic and Digital Design program.
The secret to her success?
"I worked really, really hard," she says.
"I'm tough on myself and a perfectionist. I wanted to succeed; this is a tough market for graphic design and you can't succeed unless you're really good."
She thinks every detail through, from the meanings behind a brand's name to historical stories associated with certain colours.
"She always began her projects with an intensive research process supporting the development of strong brand stories," recalls GDD department head Karin Jager.
"It contributed to design solutions that conveyed depth and originality — and top grades in all of her classes."
Like Tatiana herself, her designs balance creativity and clout.
"I like to keep it simple and eye-catching, but most importantly it has to be effective. A good design has to be perfect. Colours, shapes, typography, alignment, concept, message, everything that together conveys a powerful feeling of perfection."
Her portfolio includes robust and intriguing re-imagined branding for Chilliwack's Rotary Theatre, Costco's Kirkland lineup and a local farm market.
Tatiana's experience was aided by the incredible support of her husband, faculty, and staff.
"I'm so thankful to every single instructor, they were tough sometimes but gave everything we needed to help us succeed," she says.
"I'm here because of them."
Them, and a whole lot of hard work.
-30-