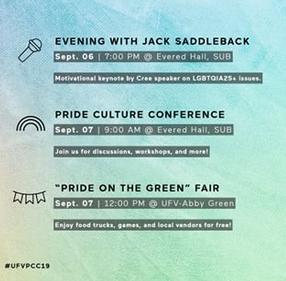 UFV and the UFV Student Union Society have teamed up to present the first annual Pride Culture Conference — a fun, educational, and inspiring event dedicated to members, allies, and advocates of the LGBTQIAP2S+ community. #ufvpcc19
UFV and the Student Union Society proudly present The PRIDE Culture Conference
Sat, September 7, 2019
9 am to 5 pm, Evered Hall, Abbotsford Campus
Join us as we explore the theme of PROGRESS: Celebrating our History, Envisioning our Future.
Conference Schedule:
Attendees can select between sessions to attend depending on their interest.
Sat, Sept 7
9 am-4:30 pm
UFV Abbotsford Campus, Evered Hall, Student Union Building
8:30–9  am
Registration
9–9:30 am
Welcome
9:30 am–11  am
Session 1: "Queerlonial: Addressing Decolonization Efforts
in the Queer Community"
11:10 m–12 pm Session 2:
"LGBTQ Literature and Censorship in the Fraser Valley"
12–1:30 pm
PRIDE on the Green Fair OPENS – vendors, srtisans, non-profits and food
trucks on campus
1:30–2:20 pm
Session 3: "You may want to date a Transwoman"
Session 3A: "Changing Attitudes towards Bisexual
Individuals in Abbotsford"
PRIDE on the Green Fair OPEN
2:30 –3:20 pm. Session 4: "Mpowerment: Queer and Trans Youth
Organizing on Sexual Health"
Session 4A: "Advocacy & Conflict: Harnessing both for Change"
PRIDE on the Green Fair OPEN
3:30–4:10
Session 5: "Creating Dependable Allies"
Session 5A: "Queer and Christian? No Problem"
PRIDE on the Green Fair OPEN
4:15–4:30 pm
Conference Closing Session
4:30–6 pm
PRIDE on the Green Fair OPEN
Get your tickets TODAY! Visit https://connect.ufv.ca/2019-pride-conference to get your tickets!
UFV Student FREE – registration required to save your space, sign up today!
UFV Alumni, Faculty, Staff — $15
General Public — $25
https://www.facebook.com/UFVstudentlife/
For more information, contact Sheila McKay at sheila.mckay@ufv.ca
09/08/2019