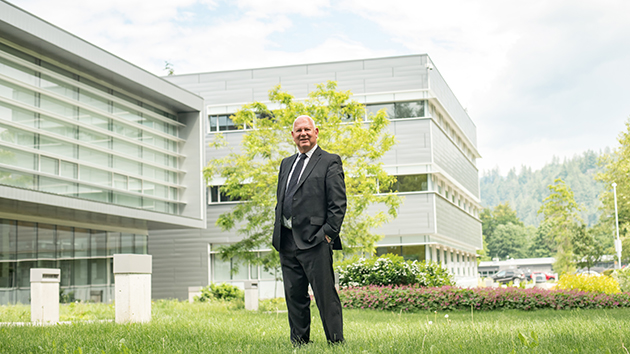 John Jansen smiles, twisting the thick brassy ring on his right hand while casting kind eyes toward the Vedder River's cold, fast waters.
"It's amazing how it all works out," he says as the ring's wide UFV logo catches light on a small corner of the 200-plus acres he helped acquire.
"I think we've done pretty good here."
A dynamic, tenacious, and creative community advocate with decades of public service, Jansen helped pave the way for countless upgrades to education, health care, transit, and other services.
For this and much more, he'll be recognized for his outstanding achievements with an honorary Doctor of Laws degree at the University of the Fraser Valley at its June 5 afternoon Convocation ceremony. The ceremony takes place at the Abbotsford Centre and the public is welcome.
"It really is an honour, I didn't expect this at all," Jansen says.
"When they told me I just about got tears in my eyes because it's been a real passion of mine, having this incredible university providing such immense opportunities for our children and our future."
One of nine children and barely speaking a word of English, Jansen arrived in Chilliwack at age five, having sailed from Holland before crossing Canada by train.
Eventually becoming a Chartered Professional Accountant, he was elected as a Chilliwack city councillor and as mayor before serving as an MLA, representing the Social Credit party. During his time in the provincial government, he served as Minister of International Business and Immigration, Minister of Finance, and Minister of Health. He was a member of the provincial caucus when Fraser Valley College received university-college status from the government, a key development in UFV's history.
As president of with the Chilliwack Economic Partners Corporation he led the purchase of more than 200 acres from the Canada Lands Corporation to enable the development of Chilliwack's Canada Education Park — bringing the RCMP, Canada Border Services, and the Justice Institute of B.C. to locate educational programs there along with UFV. This development helped attract many large businesses to the community, providing local job opportunities and further stimulating economic growth.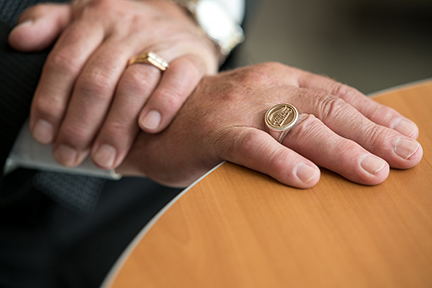 As president of the Chilliwack Hospital Foundation he continues to work tirelessly supporting and expanding health services — driving a $5-million campaign to successfully complete Fraser Health Authority's $35-million expansion of Chilliwack General Hospital.
As a member of council, Jansen was involved in the development of the Chilliwack Airport, and creation of Townsend Park and Exhibition Field Stadium. He also served as Chair of the Fraser Valley Regional District. Respected and admitted by his peers, he received a legacy award from the Chilliwack Chamber of Commerce, a fellowship by the Certified General Accountants Association of Canada, and a Paul Harris Fellowship from Rotary International.
"It's been a genuine pleasure serving my community all these years," he says.
"I'm so blessed, and couldn't be more proud."