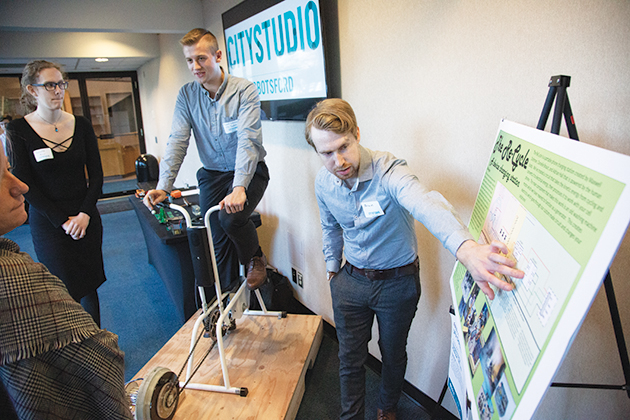 "Pretty fun, eh? I love it!"
Max Dishman's enthusiasm is contagious. People stopping by Abbotsford City Hall during the semi-annual Hubbub event are in jeopardy of walking away with a major dose of zeal.
Max is one of dozens of UFV students on hand to show off their work at the CityStudio Abbotsford Hubbub.
He is demonstrating a human-powered phone-charging station, designed to encourage adults to be more active by inviting them to ride an exercise bike to charge up their phone while watching their children at the playground.
Twice a year, UFV students involved in the CityStudio Abbotsford partnership bring their projects to City Hall for Hubbub, a combination show-and-tell and Survivor-style competition.
Groups from participating classes show off a semester's worth of work on a project designed to address a real, practical challenge presented to them by the City of Abbotsford. There's a people's choice award and a grand prize winner chosen by a panel of judges selected by CityStudio organizers.
"The initial idea focused on innovation and idea generation and energy. We wondered how we could leverage and infuse that energy and innovation into what we do at City Hall. We want to harness the potential of community members by getting students involved in helping to build their community," says Alison Martens, Continuous Improvement Coordinator at the City of Abbotsford.
Now in its third year locally, the CityStudio concept was launched in 2011 in Vancouver. There are nine communities involved world-wide in CityStudio partnerships. Abbotsford was the third city in B.C. to join the CityStudio movement, and the quickest to implement it, getting up and rolling with UFV as partner in just eight months.
It's all about encouraging experiential education for the students, developing a sense of citizenship, forging partnerships, and fostering a culture of innovation at the city and the university, goals that tie in with UFV's education plan and the City's strategic plan.
By Winter of 2019, students from 19 regular courses, one directed studies course and one interdisciplinary studies course had taken part in a CityStudio project.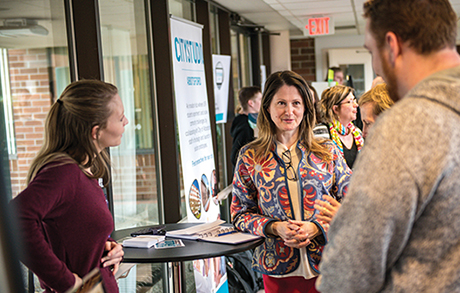 Larissa Horne is UFV's Experiential Education Coordinator. She acts as a liaison between UFV and the City of Abbotsford for CityStudio courses.
"My role is to take the set of challenges that the City of Abbotsford provides and match it with the academic courses we offer at UFV, and to make sure the challenge matches well what the instructor is trying to cover in the curriculum of that class."
Some of those matches?
Geography of Tourism students took on the challenge of designing a signature souvenir for the community of Abbotsford.
Conservation Biology students addressed the tricky task of maintaining a balance between ecological diversity and a manicured park at Mill Lake.
Child and Youth Care students worked to foster neighbourhood pride and citizen engagement in a local neighbourhood.
Business students examined how to transform small strategic locations into friendly, welcoming spaces that could be used by the community
Community Art students beautified the Delair Park pump station througha public art project.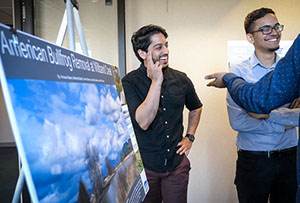 Having recently wrapped up its fourth semester, all parties involved are revved
up about the benefits of the partnership.
Former UFV Provost and Vice President Academic Eric Davis was an early champion of the concept, especially since it ties into so many of the goals in UFV's education plan that connect into community engagement.
"It's a win-win-win partnership," he says. "While learning how cities work, UFV students gain the opportunity to wrestle with real-world, civic challenges, create possible solutions, and learn the skills required for collaboration, strategic thinking, innovation, and social change. They gain credits, connections, community recognition, enhanced employability, and a sense of agency. The City gains active citizens, energized staff, and tested prototypes for their strategic plans. Both build a culture of working across boundaries. CityStudio vests the students in their city, the city in UFV, and the community in UFV students."
Abbotsford Mayor Henry Braun is also a CityStudio fan.
"Through such a collaborative and engaging enterprise, it is our hope that students are not only gaining hands-on experience, but also catching an excitement for community issues," he says. "This may spark ideas for future job opportunities right in our city and possibly local government. In turn, staff are able to develop further community connections and are encouraged to look at issues from a new perspective. Overall, the program creates an exciting synergy throughout our community."
UFV electronics professor Joel Feenstra likes the CityStudio model because it encourages student exploration.
"One of the things I really struggle with in education, is how prescriptive everything often is about learning new skills, giving students step-by-step instructions, for example. Education should be more than proving of known values, it should be exploratory, challenging, and somewhat free-style. It should provide a place where students can learn base concepts, ask advice from faculty, use facilities and tools, and then expand their learning through problem-based learning.
"I was stoked that three of my students took on the challenge of the human-powered phone-charging station. They have pushed their own limits of learning way beyond the course outlines, across a breadth and depth of materials that we would never have the time to teach. It's not all easy, but it's a good, safe place to struggle along and accomplish something of note. They've developed research skills, component knowledge, circuit design skills, project management skills, and even organizational skills such as chairing meetings and making presentations. These are things that a course can never develop as deeply, because the pride and passion in a project like this breeds an intense engagement."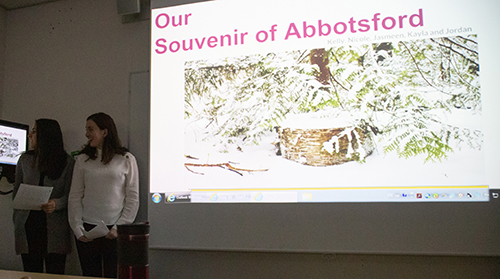 The students say it best themselves.
Geography student Kim Daley took part in the challenge that asked groups of students to develop a souvenir for the City of Abbotsford. Her group suggested going beyond a souvenir to create a new tourism brand.
"Our project was called Grow Abby," says Daley. "Although the primary objective of the CityStudio program was to think of souvenir items, our team decided that a better direction was to create a brand that encompassed everything Abbotsford represented. Grow Abby embodies Abbotsford's growth in the urban and agriculture sector, events, and family and community building. We saw that the advantages of branding instead of individual souvenir products was to shape our corporate image, incorporate values, and promote inclusivity and diversity.
"It was really fun and interesting to do something with the city I live and work in," she noted. "I could see the potential impact that the project could have as we were working on it. We were careful to create a concept that was feasible — that could actually happen — because we were invested in it as citizens of this community. We met with representatives of the City of Abbotsford and Tourism Abbotsford, which made it even more realistic. We learned a lot about how the community views itself and how
it wants to be represented in the tourism market.
"It was also a great experience to see how the skills we have acquired through our studies can be applied in a bigger-picture setting."
"Our project started with the idea of providing our community with an eco-friendly way to charge their devices while promoting health," noted Danielle Braun, Max Dishman, and Adrian Hall, the three students who built the human-powered device charger. "Thanks to CityStudio, we were able to connect with the City of Abbotsford and bring our dreams to life. What started as a simple idea on paper ended with a difficult and exciting challenge of our skills and expertise. After many laughs, tears, and hours in the lab, the charging station was born. Being able to use our knowledge to give back to our community has changed our lives. We recommend students take advantage of this opportunity in the future."
What's a Hubbub?
CityStudio Abbotsford is a collaborative hub where UFV students and faculty partner with City of Abbotsford staff to address community challenges.
Hubbub is an interactive project showcase that brings together UFV students to share their CityStudio Abbotsford projects, findings, and recommendations with City of Abbotsford staff, peers, faculty, and community members. Hubbub includes poster displays, video presentations, and opportunities to engage in research-related discussions, and vote for your favorite student-led project.
This article was originally published in the Spring 2019 edition of UFV's Skookum magazine.