Dr. Lucy Lee is in demand.
She's on the phone, walking down the hall near her UFV office arranging a trip to New Zealand, having just returned from San Francisco. There's an email from Chile in her inbox. Is she going to Japan in a few weeks? There's also that shipment that needs to get on its way to Austria.
This is normal for Lee, as is apparent by her calm demeanor while she juggles all of these possibilities with a smile.
What is less ordinary is the reason she's shuffling these various international to-dos.
In addition to her regular duties as the Dean of the Faculty of Science at UFV, Lee offers a growing global clientele something that is itself literally multiplying.
She shares access to her fish cell linesthat — given the right conditions —are essentially immortal, continuously dividing, again and again, relatively quickly.
Having grown alongside Lee's career, these proliferating cellular samples are sought after because of their increasing value in solving today's urgent problems in industry and society.
"Viruses can't grow on their own, they need a live host," she says. "But you don't want to be injecting a virus in animals just
to be a factory for viruses."
It was the desire to grow fish viruses in fish cells for research that was the impetus for the first fish cell line RTG-2 in 1962 — a less-defined line that would later provide some of the impetus for Lee's own foundational work.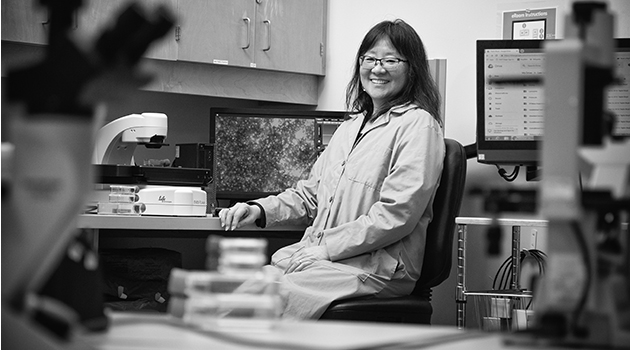 Individual cells are not complete organisms, so using cell lines in experiments provides many benefits, including sidestepping the ethical and economic dilemmas of animal testing.
A huge benefit is how they shrink timelines. Full experiments can be conducted over weeks in a small lab, drastically cutting costs of a project.
Take Lee's previous work for the petroleum industry, for example. With grant money support and industry cooperation, she tested samples of oil sands process-affected waters (OSPW) from the Athabasca Oil Sands deposit settling ponds, north of Fort McMurray, Alberta.
Using animals over the years on a continuous basis for such a project would cost millions of dollars. Using fish cells is not only more cost-efficient, but also more humane.
"So I wrote a grant to them saying, 'Look, I can do this with only a few thousand dollars because I can do it in the lab,'" recalls Lee.
She had a student test the effects of the OSPW samples on different cell lines of different species and the results were fast
and impressively consistent.
Animal testing without the use of animals.
"It was so quick," she says. "Quick and cheap."
Fleshing out the research
Born and raised in post-war South Korea where other food sources were diminished, Lee ate what was most plentiful in the peninsula at the time: fish.
When she was still a young child, her family moved to Peru, where the booming fishing industry also provided cheap and abundant seafood.
And now, living inland from the British Columbia coast, Lee is turning her attention to seafood that doesn't necessarily come from nearby waters.
It's this application of her expertise in fish cell lines that has headline-grabbing potential. Lee is involved in the rapidly developing start-up industry of lab-grown meat, or "clean meat" as it's also known.
"It's become the 'in' thing," says Lee."Lab-grown fish meat is not as well known, but it is an area where we need the most research because currently it is the most expensive to grow."
Fish species populations have long been declining and fish farming comes with its own controversial baggage.
Meanwhile, the world's hunger for meat is only increasing.
Engaging in the conversation about manufactured meat was a natural culmination of Lee's work, given that we are entering the era of declining fish stocks and environmental concerns, and increased demand for lab-grown options.
Over the years she has published about 20 fish cell lines from different species and cell types: rainbow trout liver, goldfish skin, haddock embryos, eel brain, and cod larvae to name a few.
"The goldfish skin cell line produces collagen, which can be used as a scaffold for other cells, especially if you're going to make muscle," says Lee.
That scaffolding takes what would otherwise be pâté and forms the structure needed to create a firm meat.
A slide from one of Lee's recent presentations shows a 3D printer that uses cells as its "ink". One can imagine creating a filet layer-by-layer, using only naturally reproducing cells from cell lines.
Clean meat keeps Lee busy: she is a founding scientific advisor to the California-based start-up Finless Foods, advises at the Plant and Food Seafood Research Centre in New Zealand, and collaborates with both the Norwegian Veterinary Institute, and the Faculty of Veterinary and Animal Sciences at the Austral University of Chile.
Growing cells, nurturing minds
The more cell lines she creates, it seems, the more possibilities there are for Lee's work to be used.
She calls them her "babies", and in a way they are. Spanning a generation, her oldest cell line creations are over three decades old.
That means several of her original cell lines are older than all three of her children.
In her position as Dean of Science, Lee is also creating academic descendants — with current students and alumni splitting off to follow their own paths of related research.
Recent UFV Young Distinguished Alumni winner Andrew Alexander performed quality control experiments on Dr. Lee's cells, and spent two summers working in her lab, studying how bacterial contaminants and toxicants affect fish cell lines.
Just as she provides nutrient-rich media for her cell line babies, Lee creates an optimal environment for her students to grow.
"Definitely the research opportunity for students is crucial because you don't get the same experience when you're just doing your class labs," says Brenna Hay, a fourth-year biology student with a pre-med concentration. "That's important if you're wanting to go into further graduate studies."
Her work with Dr. Lee has been the most realistic lab stint Hay has experienced. She has been given the time, resources, and guidance to delve into her own experiments. That's something most students don't get in an undergraduate practice.
The result of Lee's experience and research feeding into her student incubation
"Our university has this up-and-coming research and big things are happening here," Hay says. "We're maybe
a smaller university but there's still high-quality research."
Under Lee's urging, Hay presented her research project about pesticide effects on fish cell genomes at a national workshop in Vancouver, where she took second place in the student posters category, competing along with master's degree and PhD students.
"There are a lot of students who ask to be in my lab," says Lee. "I came to UFV because I wanted to see what impact I could have on a new university, to give them that research opportunity."
Students have to be highly independent, highly motivated, curious, and willing to do the work to vie for the busy dean's supervision.
With all of her projects and duties, it's difficult for her to find time for all of her finless babies.
But Lee manages to balance her career, mentorships, and life — all while maintaining her status as one of the
top fish cell culturists in the world.
In the media
In addition to isolating cells that are highly proliferative (stem cells, cancerous cells, etc.), another key factor in the success of creating a continuous cell line is the environment where the cells are placed. Lee's latest challenge is finding the right growth conditions for marine invertebrate cells. No one else in the world can grow them for more than six months. Lee has been successful up to nine months of proliferation, but at that point, "Kaput." Unlike vertebrates, shrimp and lobster cells do not respond to traditional media used for cell growth — which often contains fetal bovine serum along with salts, sugars, amino acids and other supplements. What's in Lee's development stage crustacean-encouraging medium? She can't tell. It's a trade secret.
Creating niche on a cellular level
Cellosaurus is a database that tracks cell lines around the world. As of February 2019, 110,948 cell lines have been recorded. Of these, 83,151 are from humans, 19,550 are from mice, and there is a steep drop-off per species from there: the next highest contributor is the rat at 1,985. There are around 586 fish cell lines in the database, with Lee's 25+ contributions representing a good slice of the tota
Uses for fish cell lines:
Virology (the diagnosis and study of viral diseases)
Biotechnology (vaccines)
Medical microbiology/pathology (the study of microbial diseases)
Toxicology
Nutrition
Immunology
Comparative physiology
Conservation (biobanking)
Education