UFV chooses Top 40 alumni as part of 40th anniversary celebrations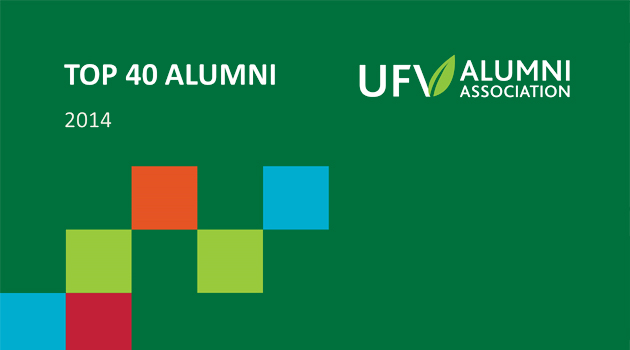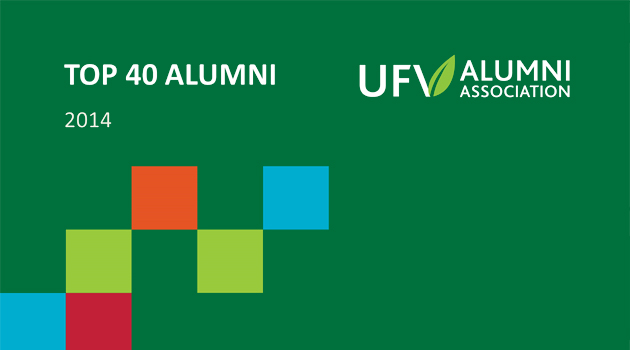 The list is out! In celebration of its 40th anniversary, the University of the Fraser Valley and the UFV Alumni Association have chosen UFV's Top 40 Alumni.
It wasn't easy to select only 40 outstanding alumni. UFV has welcomed many students into its classrooms and labs over the past 40 years. Thousands of them have graduated and become alumni of the university.
"The UFV Top 40 Alumni exemplify a range of exceptional qualities, from career excellence and leadership to acts of selflessness, courage, creativity, and innovation. We congratulate all of them on their achievements," said UFV Alumni Association chair Justin P. Goodrich (BA '12).
The list includes alumni who attended in the early days of Fraser Valley College in the 1970s, those who helped plan and shape the new degree programs during the university-college phase, and recent graduates.
"When I look at this list, I am truly impressed by breadth, depth, and variety to be found in our alumni ranks," noted Nancy Armitage, Manager of Alumni Engagement. "And it really illustrates the impact that UFV alumni are having in our communities and around the world."
More than 260 nominations were received for the Top 40 Alumni after a community-wide appeal. Representatives from the UFV Alumni Association and the university then selected the Top 40 based on a set of criteria that included community contributions, commitment to others, career/professional excellence, leadership, creativity/innovation, and acting with selflessness or courage.
The Top 40 alumni are:
Shirzad Ahmed, UT '94 — Lawyer, human rights advocate, and UFV 2011 Distinguished Alumni winner
Rebecca Anderson, Dip '93 — Women and family rights advocate and lawyer, community volunteer; attended UFV during its university-college phase and helped shape curriculum for degree programs
Luke Armstrong, BGS '11 — International security professional, providing security services to NGOs in nations experiencing turmoil
Shelley Besse, Dip '99 — President of Envision Financial and internationally recognized leader
Kelly Chahal, MA '11 — Probation officer, community volunteer, key member of Friends of UFV, a community group that campaigned for university status for UFV in the mid-2000s
Stu Chahal, BCIS '06 — Computing professional; National Director of Partner Operations for CISCO; 2012 UFV Distinguished Alumni winner
Iuliana Czeck, BA Crim '11 — Conflict resolution expert; MA in dispute resolution; has worked at Abbotsford Restorative Justice
Dave Dhat, ASc '00 — Emergency physician; philanthropist whose family foundation works on curing the blind in India
Peter Eppinga, BKin '06 — Physician focusing on supporting aboriginal communities and promoting health awareness
Debbie Greene, BBA '96 — Author; wife and supporter of brain-injured Afghanistan veteran Trevor Greene; raises awareness of brain injury effects and treatment
Gus Hartl, Dip '80 — CEO of Aldergrove Credit Union; UFV 2008 Distinguished Alumni winner
George Hemeon, BA '04 — Senior aboriginal advisor for TransCanada Corporation, renowned aboriginal carver, 2008 UFV Distinguished Alumni winner
Ken Hildebrandt, BA '96 — Founder of Gallery 7 Theatre; community theatre producer
Stacey Irwin, BBA '97 — Manager of Web Services at Prospera Credit Union; first chair of the UFV Alumni Association; current vice chair of UFV Board of Governors; dedicated community volunteer
Brad Jalbert, Cert '89 — Internationally renowned horticulturalist; expert rose breeder; owner of Select Roses
Tanya Jonker, BA '09 — Psychology doctoral candidate at the University of Waterloo, specializing in mechanisms underlying forgetting in human memory; UFV 2014 Young Distinguished Alumni winner
Lisa Kelly, AA '01 — Lawyer with a focus on social justice, Harvard PhD candidate, Trudeau Scholar
Amarjit Kingra, Cert '94 — Staff Sergeant with the Abbotsford Police; 2004 UFV Distinguished Alumni winner
David Lanphear, BCrim '99 — Vice President, Banking and Insurance, Envision Financial; Abbotsford Community Foundation board member
Matthew Loewen, BBA '03 — Regional Director at Kings Volunteer, Botswana ( part of The King's Foundation, a UK registered charity that believes that sport has a vital part to play in a child's development)
Jason Lum, UT '06 — Chilliwack City Councillor; president, Myriad Information Technology Solution; active community volunteer
Patti MacAhonic — BA '03, Executive Director of Ann Davis Transition Society, community leader, advocate for surviving family members of workplace injury, business consultant; 2014 Distinguished Alumni winner
Alex McAulay, BBA '08 — CFO and COO, Garmatex Technologies; former Chilliwack Board of Trustees member, inaugural UFV Young Distinguished Alumni Award winner (2012)
Kathleen McIntosh, BA '02 — Lawyer, crown prosecutor, has worked on several high-profile murder trials
Sherry Mumford, BA '96 — Director, Mental Health and Addictions, Fraser Health; UFV's first Distinguished Alumni Award winner (2003)
Shawn Neumann, UT '93 — Founder and CEO of Domain 7 digital marketing agency; entrepreneur; public speaker; board chair at First West Credit Union
Robert O'Brennan, UT '76 — Early alumni and Fraser Valley Regional Library CEO
Jennifer Owen, BSc '06 — Particle physicist, PhD; doctoral research was performed as a member of the ATLAS experiment, located on the Large Hadron Collider ring at CERN
Barry Penner, QC, Dip '86 — Lawyer, former Chilliwack MLA, Attorney General of BC, and provincial Minister of Environment; now Senior Counsel at Myanmar Legal Services
Darren Penner, BA '04 —Long term Alumni board director, volunteer and mentor to UFV students, Vancouver lawyer
Jaclyn Rea, BA '95 — PhD, instructor and associate chair, UBC Arts Studies in Research and Writing program; key activist in supporting university-college campaign in 1991
Bonnie Reilly Schmidt BA '04 — Historian with a special focus on history of women in the RCMP; PhD in women's history, dissertation on Women in Red Serge
Myrtle-Anne Rempel, Dip '86 — Artist, businesswoman, philanthropist, and community arts supporter
Adam Simpson, BA '06 — Regional project management specialist for United Nations Office for Project Services
Terry-Lynn Stone, BA '98 — Executive Director at Kamloops Brain Injury Association; UFV Board of Governors member; founding chair of the Alumni Association Society; UFV 2005 Distinguished Alumni winner
Andy Thompson, UT '90 — Actor, producer, playwright; Artistic & Managing Director at The Virtual Stage
Tracey Vanderaegen-Jones, Dip '94 — Leader and educator in the field of nursing; UFV 2010 Distinguished Alumni winner
Mary Anne Waterhouse, Dip '84 — Film producer; Head of Production, Blue Ice Productions; UFV 2007 Distinguished Alumni winner
Evan Wiens, BSc '06 — Award-winning dentist and community volunteer; UFV 2013 Young Distinguished Alumni winner
Chris Woods, UT '90 — Artist whose work examines the impact of popular culture (Star Wars, fast food) on the mind of the contemporary individual .