UFV Top 40 Alumni: Darren Penner — thirst for knowledge led to history degree and law career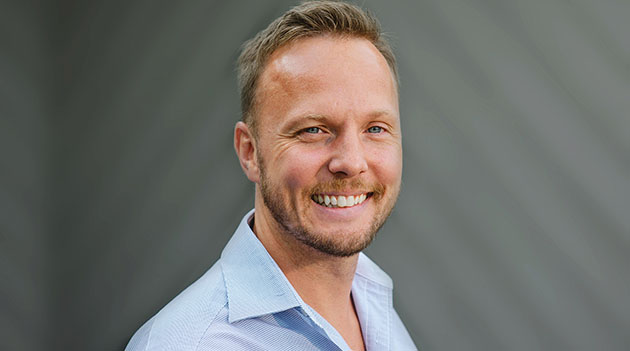 Darren Penner has always been the inquisitive sort. This inclination serves him well in his career as a lawyer, and it was fostered during his time studying history at UFV.
"I really started looking into what makes things work when I was seven years old, but once I got to UFV I further developed a thirst for education and investigation and refined my skills.
"I was inspired to take history by the quality of the instruction and my fascination with the subject. The professors were excellent and provided a positive, supportive learning environment. I would highly recommend history at UFV to anyone considering an arts degree."
Before pursuing his undergraduate degree, Darren worked with a cruise line and traveled throughout the Caribbean, South America, Mexico, Alaska, and the Mediterranean. After experiencing life at sea for three years and then living briefly in England, he began his pursuit of a bachelor's degree at UFV.
In 2004 he completed his bachelor's degree, graduating with a major in history, an extended minor in English and an intermediate proficiency certificate in Spanish. Darren was accepted to the Faculty of Law JD program at the University of British Columbia and began his studies there in 2004, graduating in 2007.
"History was great preparation for law," he says. "It provided great opportunities for learning how to analyze and write better."
He practiced with a Fraser Valley firm before relocating to Vancouver in 2009. In 2011 he joined Watson Goepel Maledy as an associate, where he practiced corporate, commercial, real estate, wills, estates, and immigration law.
Recently he decided to focus his practice on immigration law and has accepted an offer from Larlee Rosenberg, a boutique immigration firm in Vancouver. He will also be practicing some corporate/commercial and wills/estates law.
"I believe that providing sound, competent legal services is just one part of what it takes to build a lasting client relationship. My approach puts the client in the driver's seat, with an emphasis on listening to and understanding client objectives, a quick response to enquiries and concerns, and creative solutions."
Penner gave back to UFV by serving on the Board of Directors of the Alumni Association from 2006 to 2013, serving as secretary for part of that time.
He and his husband Ty Campbell welcomed son Noah in 2014.