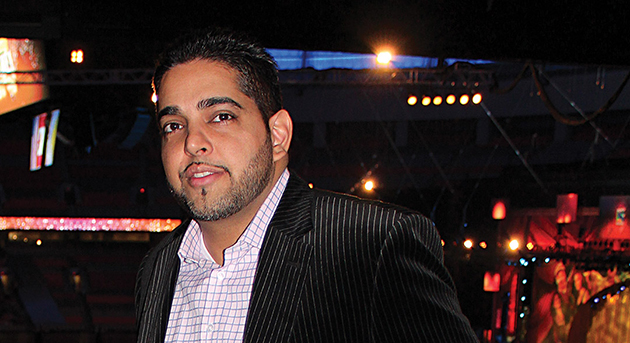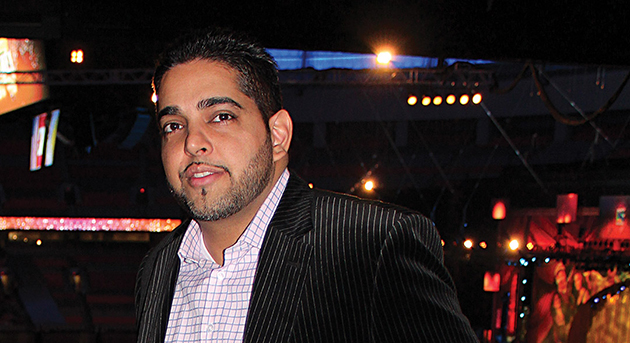 From UFV to North Carolina, then back to BC, Stu Chahal isn't afraid to share his talents, and his time, wherever he lands.
Before becoming UFV's 2013 Distinguished Alumni award winner, Stu hit the ground running after graduating with a Bachelor in Computer Systems degree with a minor in business administration back in 2005.
Fueled by winning UFV's Co-op Student of the Year award in 2004, teaching IT classes at Langara College, and working as an information services officer with Health Canada, Stu jumped in with both feet when joining his current employer, Cisco Systems, Inc.
It was a move that changed his life – and the lives of others.
Chahal quickly climbed the corporate ladder, moving to Raleigh, NC for Cisco's new hire program in 2005, then returning to Vancouver in '06 and rising through the ranks at an impressive pace before assuming the role of director of partner operations in 2014, where he's responsible for leading more than $100 million in national business while developing and executing Cisco Canada's Partner strategy.
"My UFV experience was a big factor in my success — it helped me obtain the right skills and a strong foundation that I needed in the early stages of my career," he said.
"This foundation is what I believe stuck out to Cisco Systems and propelled me to the top of their list of potential candidates."
Getting a taste of volunteerism as a member of the Vancouver Board of Trade in 2004/05 only whetted his appetite for community service, so Stu began mentoring a young boy through Big Brothers & Big Sisters of Greater Vancouver in 2006. Though the minimum commitment is only one year, Stu has stuck with his young charge ever since, receiving the Top Mentor award in 2012, recognizing his five years of impressive service.
"We will all face challenges in our careers, how we overcome these challenges is what sets apart a great business professional from a mediocre one," Stu said, adding, "The right mentors can help you become great."
And that's not all for Stu, who's also active in fighting diabetes by volunteering since 2009 with JDRF (the leading organization focused on Type 1 diabetes research) on the TELUS Walk to Cure Diabetes, an annual research fundraising event aimed at curing Type 1 diabetes.
2012, Cisco awarded Stu the Americas (North & South America wide) Volunteer of the Year Award for his contributions.
All this while starting a family after marrying his wife, Deep, in 2008.
"When you're equally passionate about multiple areas, it never feels like you are balancing them. I'm extremely passionate about my family, work, and volunteering. They seamlessly integrate together and no one item seems to be out of sync at any given time."
The UFV Top 40
 In celebration of its 40th anniversary, the University of the Fraser Valley and the UFV Alumni Association  chose UFV's Top 40 Alumni.
It wasn't easy to select only 40 outstanding alumni. UFV has welcomed many students into its classrooms and labs over the past 40 years. Thousands of them have graduated and become alumni of the university.
"The UFV Top 40 Alumni exemplify a range of exceptional qualities, from career excellence and leadership to acts of selflessness, courage, creativity, and innovation. We congratulate all of them on their achievements," said UFV Alumni Association chair Justin P. Goodrich (BA '12).
The list includes alumni who attended in the early days of Fraser Valley College in the 1970s, those who helped plan and shape the new degree programs during the university-college phase, and recent graduates.
"When I look at this list, I am truly impressed by breadth, depth, and variety to be found in our alumni ranks," noted Nancy Armitage, Manager of Alumni Engagement. "And it really illustrates the impact that UFV alumni are having in our communities and around the world."
More than 260 nominations were received for the Top 40 Alumni after a community-wide appeal. Representatives from the UFV Alumni Association and the university then selected the Top 40 based on a set of criteria that included community contributions, commitment to others, career/professional excellence, leadership, creativity/innovation, and acting with selflessness or courage.
See the whole list here.