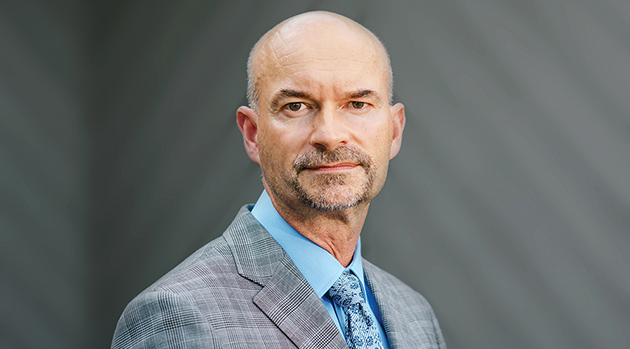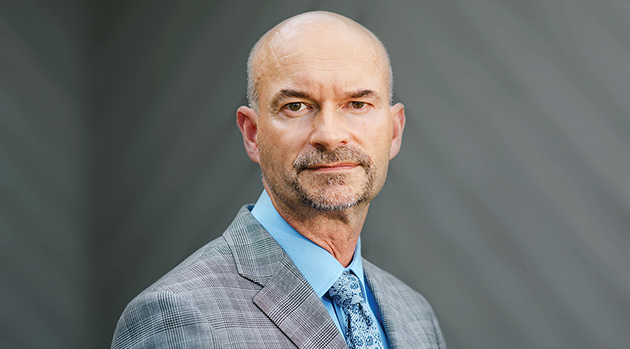 Roses are a hobby that flourished for Brad Jalbert. But if it weren't for a chance encounter with an ad for the Fraser Valley College Agriculture program, he may never have reached his full potential.
Today he is considered a leading hybridizer of roses and his Select Roses varieties are recognized world-wide for their unique qualities and remarkable colour range. He has written books on miniature roses and is a sought-after speaker.
"I was just a lonely teenager who discovered that I enjoyed working with roses and found my passion."
Brad has been running Select Roses, a small farm-style nursery in Langley that specializes in the growing and hybridizing of roses, since 1990. For his leadership and innovation in the horticultural world, he has been named one of UFV's Top 40 alumni.
He already understood the basics of horticulture going into the UFV program, but he lacked confidence.
"My family inspired my basic training but the key for me was confidence building. At UFV (then FVC) they really celebrated success and worked hard to support us, provide us with further knowledge, and inspire us," he recalls. "They were all so friendly and accessible. I had been afraid to go do post-secondary but found the college really welcoming! They provided the kind of direction a young person like me really needed. I felt incredibly focused on in a positive way, and part of a family. "
He founded Select Roses soon after his 1989 graduation from the ornamental horticulture certificate program.
"I have been hybridizing roses since the very early beginnings of Select Roses in 1990, and I continue to find it one of the great pleasures in my life and rose business.  My philosophy of rose-breeding is very simple. I listen to my heart, and my rose friends, and I try to breed roses that people will enjoy and can grow easily. The most important part is testing them under 'no spray' conditions and then having them re-tested in gardens around the world."
Select Roses, although a small company in the world of rose breeding, has introduced some of the most unique roses on the market today. Brad's roses have received high praise in gardens all across North America.
Brad has also had one of his roses chosen to be presented to country music legend Loretta Lynn in honour of her decades in show business by Sony Music Nashville. The Loretta Lynn Van Lear rose is a floribunda, an ever-blooming hybrid known for its deep color. The bloom's hue is described as a rich apricot, and the buds on the rose open into a "cottage" style flower.
"I'm very honored to have my creations grown and enjoyed by gardeners across Canada and the U.S. Our roses have also been discovered by international growers, and we are so pleased to report that many of our varieties are now available throughout the United Kingdom and Europe, New Zealand and Australia, and even South Africa," says Brad.
In honour of UFV's 40th anniversary he is naming an anniversary rose for UFV. Previously, he created the Graduation Day rose in honour of his alma mater.
The UFV Top 40
 In celebration of its 40th anniversary, the University of the Fraser Valley and the UFV Alumni Association  chose UFV's Top 40 Alumni.
It wasn't easy to select only 40 outstanding alumni. UFV has welcomed many students into its classrooms and labs over the past 40 years. Thousands of them have graduated and become alumni of the university.
"The UFV Top 40 Alumni exemplify a range of exceptional qualities, from career excellence and leadership to acts of selflessness, courage, creativity, and innovation. We congratulate all of them on their achievements," said UFV Alumni Association chair Justin P. Goodrich (BA '12).
The list includes alumni who attended in the early days of Fraser Valley College in the 1970s, those who helped plan and shape the new degree programs during the university-college phase, and recent graduates.
"When I look at this list, I am truly impressed by breadth, depth, and variety to be found in our alumni ranks," noted Nancy Armitage, Manager of Alumni Engagement. "And it really illustrates the impact that UFV alumni are having in our communities and around the world."
More than 260 nominations were received for the Top 40 Alumni after a community-wide appeal. Representatives from the UFV Alumni Association and the university then selected the Top 40 based on a set of criteria that included community contributions, commitment to others, career/professional excellence, leadership, creativity/innovation, and acting with selflessness or courage.
See the whole list here.