UFV Top 40: Patti MacAhonic — A leader in many fields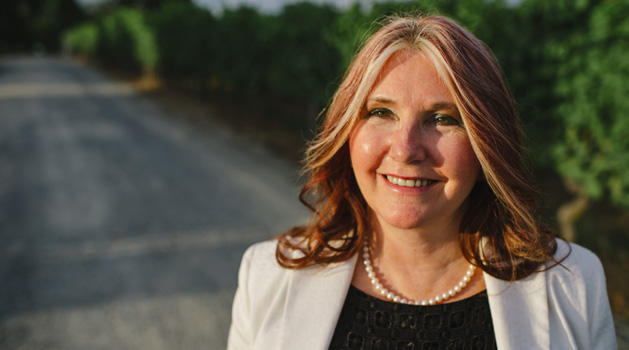 Patti MacAhonic's life has taken some unexpected turns. Married young and widowed young in 1988, she was inspired into activism by injustices she encountered after her husband's death following a severe workplace injury.
Currently executive director at Ann Davis Transition Society in Chilliwack. Patti has applied her skills and talents in many volunteer and paid roles throughout her life.
Her achievements earned her the UFV Distinguished Alumni Award for 2014 and a spot in the UFV Top 40 Alumni.
After experiencing the frustration of being a widow dealing with bureaucracy, she learned about lobbying and legislative reform first-hand as she worked to change laws and practices surrounding workplace injuries and fatalities.
The result of her decades of lobbying was the facilitation of substantial changes to BC's Bill C-37 for survivors and children of workplace fatalities.
Along the way, she discovered post-secondary education.
"I decided I needed to change the system," she recalls. "I thought maybe if I had letters behind my name, people would listen to me more and I would become more credible to decision makers."
She enrolled in the Social Services diploma program in the late 1990s at what was then UCFV.
After her diploma, MacAhonic decided to continue into the Bachelor of Adult Education degree.
She earned her BA Ad Ed degree in 2002, and went on to earn a Master of Business Administration in 2008 from Royal Roads University.
"The Adult Ed program gave me a place to explore my interests. It was full of really interesting learning moments. I found out that a lot of the things I had been doing in my career had theoretical underpinnings to them. Studying the theory helped me give language to things that I was already doing."
Patti has been executive director of the BC Wildlife Federation (and was the first woman in Canada to lead a provincial fish and game organization), the Chilliwack Chamber of Commerce, and the BC Brain Injury Association. She was a candidate for the New Democratic Party for the Chilliwack riding in the 2013 provincial election.
Many of the highlights of her life have come about as a result of her volunteer work.
One of the roles she is understandably proud of is the "bridging" one she takes on between academia and injured workers' families in the area of research into workplace injuries.
"People who have been affected by workplace injury have the passion and the drive to effect change and really understand the meat of the issue from personal experience, but they are not always taken seriously. Academics studying the field have knowledge and expertise, but they don't 'get it' the way someone who has lived it does. With my life experience and my education, I am the glue that enables the two to work together to advocate for change."