UFV Top 40 Alumni: Dave Dhat — Helping cure blindness in India helped him see clearly that medicine was his destiny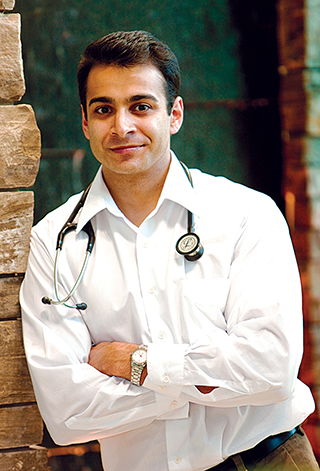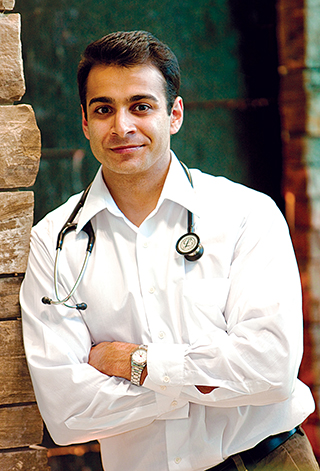 Dr. Dave Dhat didn't take a very direct route to a career in medicine. Now an emergency room physician at Abbotsford Regional Hospital, he started his post-secondary studies with plans to become an engineer.
After completing his Associate in Science two-year degree at what was then UCFV in 2000, he went on to complete an engineering degree at the University of Victoria.
He moved to the Silicon Valley to work as an electrical engineer before returning to British Columbia to run his own trucking company.
It may have taken him awhile to turn to medicine, but it's not surprising that he did. Dave's life has been transformed by his experiences working with the Dhata Foundation, a family-run charity that seeks to eliminate curable blindness by providing free access to preventive exams and surgical care for impoverished people living in India's Punjab state.
"My parents were visiting their homeland of India and my mum, who is a nurse, noticed that many people were suffering from cataracts, which can be easily cured," Dave says. "They heard that some physicians were working to help people for free, and decided to find away to help the doctors continue their charitable work."
The Dhat family, including Dave and his four siblings, worked together to launch the foundation and offer eye camps in India to people in need.
Now in its 12th year, the Dhata Foundation funds more than 1,000 eye surgeries to impoverished people each year.
Dave's experiences at the eye camps in India reinforced a dormant desire to pursue a career as a physician. He went to medical school at McMaster University in Hamilton, Ontario. In addition to his emergency room duties at Abbotsford and St. Paul's hospitals, he is also an on-call trauma physician.
"It was shocking to me to witness first-hand how many people were affected by easily preventable and curable diseases. Helping people in India had a tremendous impact on me. Restoring sight is one of the greatest gifts. Seeing an old woman crying because she hadn't seen in 10 years, and now can finally see her grandchildren, was a transformative experience."
Dave says his time at UFV (then UCFV) provided him with a solid foundation for further study.
"Not only did it offer great professors with a true love for their respective disciplines, but they were also dedicated to preparing us to think about science and how to approach scientific problems. For sure it prepared me well for medical school and engineering school. I had an easy time in my further studies because of the proper grounding I received."
To find out more about the Dhat family's charitable work, visit: www.dhatafoundation.org
 The UFV Top 40
 In celebration of its 40th anniversary, the University of the Fraser Valley and the UFV Alumni Association  chose UFV's Top 40 Alumni.
It wasn't easy to select only 40 outstanding alumni. UFV has welcomed many students into its classrooms and labs over the past 40 years. Thousands of them have graduated and become alumni of the university.
"The UFV Top 40 Alumni exemplify a range of exceptional qualities, from career excellence and leadership to acts of selflessness, courage, creativity, and innovation. We congratulate all of them on their achievements," said UFV Alumni Association chair Justin P. Goodrich (BA '12).
The list includes alumni who attended in the early days of Fraser Valley College in the 1970s, those who helped plan and shape the new degree programs during the university-college phase, and recent graduates.
"When I look at this list, I am truly impressed by breadth, depth, and variety to be found in our alumni ranks," noted Nancy Armitage, Manager of Alumni Engagement. "And it really illustrates the impact that UFV alumni are having in our communities and around the world."
More than 260 nominations were received for the Top 40 Alumni after a community-wide appeal. Representatives from the UFV Alumni Association and the university then selected the Top 40 based on a set of criteria that included community contributions, commitment to others, career/professional excellence, leadership, creativity/innovation, and acting with selflessness or courage.
See the whole list here.