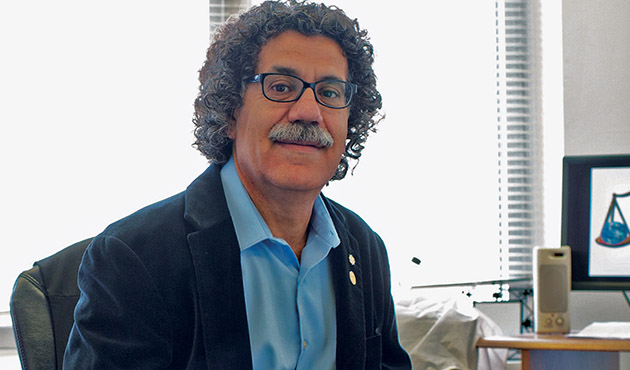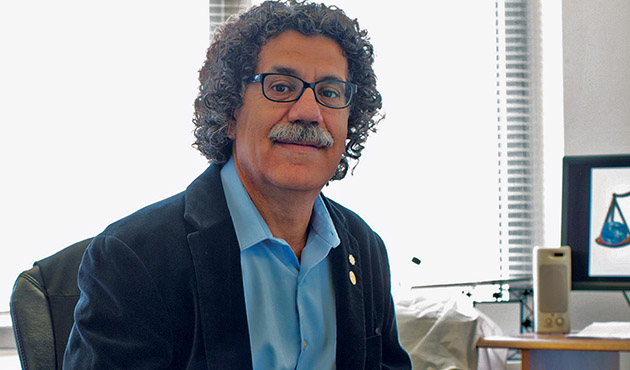 Caring, competent, and charismatic, Shirzad Ahmed was an obvious choice for UFV's Top 40 Alumni list.
Winner of UFV's Distinguished Alumni award in 2011, his tireless fight for oppressed and vulnerable people is partially inspired by his own trials and tribulations. At the age of 18 he was a political exile from Kurdistan. He knocked on the doors of 13 countries before gaining temporary refuge in Italy and a permanent home in Canada.
Now a successful Calgary lawyer, Shirzad launched his post-secondary studies at UFV (then UCFV) at the age of 30 in 1992, finishing his BA at Simon Fraser and earning his law degree at the University of Calgary.
Still, he never forgot his roots.
"UFV is very close to my heart because of the people," he said.
"I made friends for life there, both among the students and the faculty and administration. The faculty had very high standards. People think about universities such as UBC as prestigious, but sometimes the best university experience is right in your own backyard."
While at UFV Shirzad co-founded a chapter of Amnesty International, and was a frequent visitor to management and board meetings, bringing forth ideas about how to improve the rapidly growing institution.
Dr. Eric Davis, who is now UFV provost and vice president academic, taught Shirzad back when he joined UFV as a history faculty member. When Shirzad received his Distinguished Alumni award, Davis' praise was unwavering.
"Shirzad set and broke the mold for student leadership," Davis said. "He was a tireless supporter of students' success and rights, in general, and of disadvantaged individual students, in particular… I don't use the word 'tireless' lightly. The man never slept… And he was inspirational. His strength, determination, passion, intelligence, selflessness, energy, hard work, infectious enthusiasm, and sense of humour transformed the life of many a student who, because of his example, discovered within themselves the motivation and capacity for leadership and commitment to a community and world beyond their particular story."
Shirzad's office door is open to countless refugees fleeing persecution from every corner of the globe. He often assists them for free and even pays their court costs out of his own pocket.
He received the 2008 Distinguished Service award in Pro Bono Legal Service from the Law Society of Alberta and the Canadian Bar Association. In 2009, he was inducted as a member of the Alberta Order of Excellence.
"I think that it's our duty to help people, no matter where they come from," he said.
So far, he's helped people from 144 countries, including women fleeing genital mutilation in Kenya, gay men fleeing persecution in Nigeria, people fleeing persecution for membership in the Falun Gong religion in China, and many others.
Shirzad lives in Calgary with his life partner, Yvette Kroeker, whom he met soon after coming to Canada in 1984.
 The UFV Top 40
 In celebration of its 40th anniversary, the University of the Fraser Valley and the UFV Alumni Association  chose UFV's Top 40 Alumni.
It wasn't easy to select only 40 outstanding alumni. UFV has welcomed many students into its classrooms and labs over the past 40 years. Thousands of them have graduated and become alumni of the university.
"The UFV Top 40 Alumni exemplify a range of exceptional qualities, from career excellence and leadership to acts of selflessness, courage, creativity, and innovation. We congratulate all of them on their achievements," said UFV Alumni Association chair Justin P. Goodrich (BA '12).
The list includes alumni who attended in the early days of Fraser Valley College in the 1970s, those who helped plan and shape the new degree programs during the university-college phase, and recent graduates.
"When I look at this list, I am truly impressed by breadth, depth, and variety to be found in our alumni ranks," noted Nancy Armitage, Manager of Alumni Engagement. "And it really illustrates the impact that UFV alumni are having in our communities and around the world."
More than 260 nominations were received for the Top 40 Alumni after a community-wide appeal. Representatives from the UFV Alumni Association and the university then selected the Top 40 based on a set of criteria that included community contributions, commitment to others, career/professional excellence, leadership, creativity/innovation, and acting with selflessness or courage.
See the whole list here.