UFV Top 40 Alumni: Rebecca Anderson — UFV kick-started law career for mature student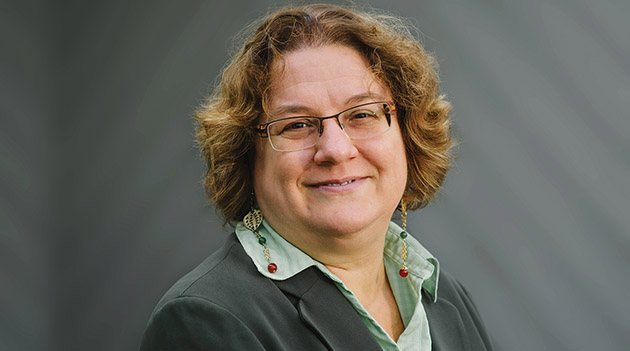 Rebecca Anderson didn't know where her educational journey would take her when she began taking media and communications studies and other humanities courses at UFV in the early 1990s.
She earned her MACS diploma in 1992 and continued on to Simon Fraser to finish a BA degree.
When she finished that she worked in the Fraser Valley, for the United Way and the Mission Literacy Association. But she was intrigued by the experiences described by her friend and fellow UFV alumnus Shirzad Ahmed, as he attended law school in Calgary.
Soon enough she enrolled at the University of Calgary's Faculty of Law, commuting by Westjet regularly while the family stayed behind in Abbotsford.
Earning her law degree at age 42, Anderson is an example of what a "mature" student — one who didn't start university straight out of high school — can achieve.
"I wouldn't be where I am today without UFV. I had to start with upgrading. When I began my studies I didn't know the full value of education," she recalls. "UFV made me fall in love with education. It opened my mind and my eyes to a much bigger world than I was aware of previously. It was the perfect place to begin my education. It was a special place, warm and friendly, and very welcoming."
Rebecca focuses her Vancouver law practice on family law, and particularly enjoys helping people at risk.
"Experience has taught me that every client and every case is special and unique in some way. I am dedicated to helping each client to see their way past the current situation, assisting them as they enter a new chapter in their life, and preparing the way for them to go forward on their own — one step at a time."
Rebecca was nominated by one of her closest supporters — Robert, her husband of several decades.
"Her whole career began by taking a few courses at UFV once our youngest daughter began kindergarten," he says.
She says she was surprised and humbled to be named one of the Top 40.
The UFV Top 40
 In celebration of its 40th anniversary, the University of the Fraser Valley and the UFV Alumni Association  chose UFV's Top 40 Alumni.
It wasn't easy to select only 40 outstanding alumni. UFV has welcomed many students into its classrooms and labs over the past 40 years. Thousands of them have graduated and become alumni of the university.
"The UFV Top 40 Alumni exemplify a range of exceptional qualities, from career excellence and leadership to acts of selflessness, courage, creativity, and innovation. We congratulate all of them on their achievements," said UFV Alumni Association chair Justin P. Goodrich (BA '12).
The list includes alumni who attended in the early days of Fraser Valley College in the 1970s, those who helped plan and shape the new degree programs during the university-college phase, and recent graduates.
"When I look at this list, I am truly impressed by breadth, depth, and variety to be found in our alumni ranks," noted Nancy Armitage, Manager of Alumni Engagement. "And it really illustrates the impact that UFV alumni are having in our communities and around the world."
More than 260 nominations were received for the Top 40 Alumni after a community-wide appeal. Representatives from the UFV Alumni Association and the university then selected the Top 40 based on a set of criteria that included community contributions, commitment to others, career/professional excellence, leadership, creativity/innovation, and acting with selflessness or courage.
See the whole list here.