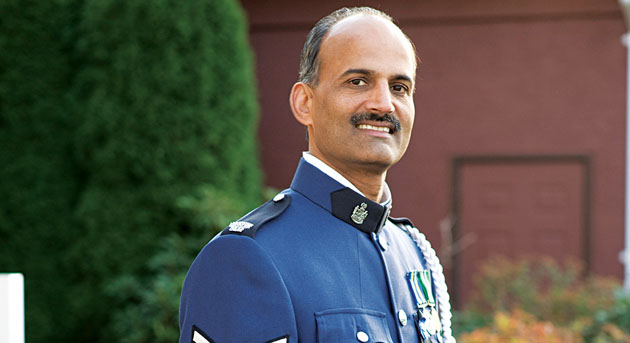 Abbotsford Police Staff Sgt. Amar Kingra's family has a very close relationship with two major Fraser Valley organizations.
One is the Abbotsford Police Department, which Amar joined in 1981. His nephew, Constable Charn Kingra (also a UFV alumnus and a sessional criminology instructor), followed him into the force in 1996. And just last year, his son Jason, who has studied business at UFV, also joined, marking the first time that three family members have been on the force at once.
The other is UFV. Many members of the Kingra family have studied at the local university over the years; most of them have gone on to careers within the criminal justice sector.
Amar began his relationship with UFV (then FVC) as a crim diploma student, but left before finishing the credential because he obtained employment with Corrections Canada.
A love of learning brought him back to FVC in the late '80s and he earned a business administration certificate. When the newly designated UCFV brought on a bachelor's degree in criminal justice, he enrolled part-time in the program.
Amar was the first visible minority hired by Abbotsford Police (formerly Matsqui Police).
"I was the only Indo-Canadian police officer in the Fraser Valley for years and often assisted other police forces in Canada, as well as the United States," he says.
"It has been an exciting and a challenging career. Having been raised in the Fraser Valley, I have seen this community go through some major growth and demographic changes.
"Abbotsford is probably one of the most diverse and fast growing cities in Canada. Gone are the days when a police officer knew just about every local criminal and his/her method of operation. The police officer also had the time to get to know the local citizens better."
"I strongly believe that my education as UCFV was instrumental for my success in obtaining employment. I believe it was also an asset for advancement within the department," says Amar.
When asked about what advice he would give to this generation, he recommends sticking to the straight and narrow path and avoid criminal temptation.
"My message has always been, 'stay away from anyone who is into any type of criminal activity. Listen to your elders, get an education, and get a decent job.'Too many of our youth are dying, and this is all avoidable. It's due to the poor lifestyle choices that they are making at such a young age."