UFV Top 40 alumni: Gus Hartl — Credit union CEO chose a different path than the 'family business'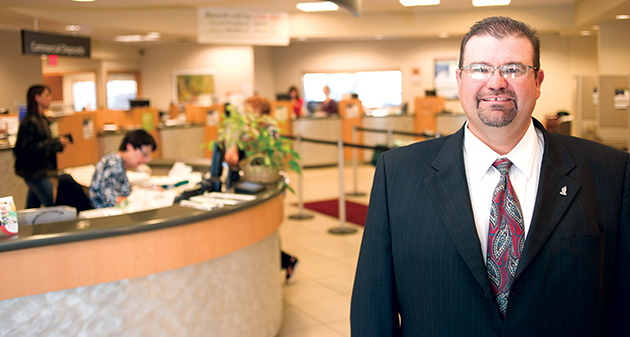 It's a good thing the Mounties didn't get their man.
Aldergrove's Gus Hartl grew up the youngest of six boys, and all but the eldest followed their dad into the RCMP. Hartl considered doing so too, and was accepted into the force, but when he found himself 500th on the waiting list he decided to try UFV's Business Management and Administration diploma program instead. After graduating, the future 2008 Distinguished Alumni and UFV Top 40 Alumni award winner moved into banking.
Needless to say, his time at UFV (then Fraser Valley College) was a solid investment.
He's now the very successful CEO of Aldergrove Credit Union, serving more than 19,000 members through six credit union branches, three insurance offices, and a financial planning division.
With more than $570 million in assets, ACU is a long way from the quiet classrooms where Hartl got his start. He was one of only six members in the second graduating class from the Business Management and Administration diploma program in 1980.
Heading into FVC, Gus didn't have a specific goal in mind when he enrolled in his first-year courses. He was only 16, having graduated from Abbotsford Senior Secondary at a young age, and it was his parents who encouraged him to try business studies.
At the age of 18 he was accepted into the management training stream at the Bank of Nova Scotia. He preferred smaller communities after being posted to downtown Vancouver by the bank, and he wanted to learn the lending and credit side of the financial sector, so he joined finance company Trans Canada Credit.
Gus's career really took off when he joined First Heritage Savings Credit Union (now Envision Financial) in 1985. He stayed and gained experience until 2001, when he was invited to join Aldergrove Credit Union to open and manage a new branch in Mt. Lehman Centre.
He became operations manager for all branches in 2003. By 2007 he was chief executive officer of Aldergrove Credit Union.
His position also allows him to stay local, in the communities he has called home since 1973, and where he and his wife Brenda have raised their daughters. Jessica attended UFV for a couple of years and captained the women's soccer team. Meagan also took courses at UFV.
Gus is a charter member of the Aldergrove Rotary Club and recipient of the Paul Harris Fellow, vice chair of a credit union foundation of BC, a men's slo-pitch enthusiast and organizer, a past director with the Abbotsford Chamber of Commerce, and a past member of the BC Children's Hospital fundraising committee.