UFV Top 40: Shawn Neumann — Digital marketing trendsetter finds success locally and globally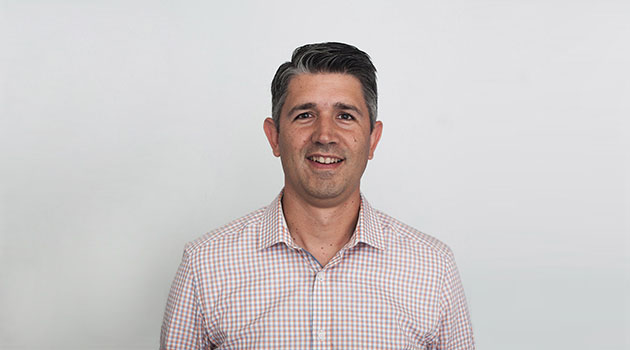 Shawn Neumann is an entrepreneur, public speaker, and tech leader who has built Domain 7 digital agency from a one-man shop in backroom of his parents' Abbotsford home to a 40-employee company with offices in Abbotsford, Vancouver, Seattle, and Washington, DC.
Shawn started his post-secondary journey at his local university college (then called UCFV), in the early 1990s before transferring to Simon Fraser and earning a BA in history and economics.
"I did my first year and a half of university at UCFV prior to transferring to SFU and I was very thankful I did. I found the intimacy of the smaller class sizes and the direct interaction with the faculty to be a huge boost to my growth and learning," he recalls. "UCFV created a strong foundation of relational learning and study practices that served me well as I continued my education and beyond into work and community involvement."
Shawn is proud of the growth of his company, but also of the culture that has been fostered at Domain 7.
"When I look at the projects we're working on today, they are the direct result of the depth of talent we've built up on our team, and our humans-first mission. Those are what I'm most proud of, and they're measures that don't show up on a listing of top-growing companies. The goal has never been growth for growth's sake. That's just the by-product of pursuing a rich company culture and empathetic, human-focused digital experiences."
The company's success and business model have garnered Shawn attention. In 2007 he earned a Business in Vancouver 40 under 40 award, and Domain7 been named one of BC's Fastest Growing Companies for seven consecutive years.
And in 2013/14, he returned to his alma mater to work collaboratively.
As UFV approached its 40th anniversary, it sought professional marketing consultants to help tell the story of its impact on its community and the world over four decades. Domain7 was the successful candidate. Like UFV, this interactive digital marketing agency has found success both locally… and beyond.
Shawn is also serving as an alumni representative on UFV's 2025 visioning committee, which is tasked with imagining and articulating what UFV will be like 10 years from now.
Shawn is also board chair at First West Credit Union. He balances his time between these activities, inventing better ways of doing business at Domain7, and a busy home life with his wife Kelly and their two daughters.
He is proud to be one of UFV's Top 40 alumni.
"UFV has made a strong contribution to the Fraser Valley — it has produced many community and business leaders and as a result I was very humbled and honoured to be listed among these people. I am particularly pleased to see the university grow and evolve and am pleased to be associated with such a dynamic school."
— with files from Domain7.com and Shawn's LinkedIn profile.
The UFV Top 40
In celebration of its 40th anniversary, the University of the Fraser Valley and the UFV Alumni Association  chose UFV's Top 40 Alumni.
The list includes alumni who attended in the early days of Fraser Valley College in the 1970s, those who helped plan and shape the new degree programs during the university-college phase, and recent graduates.
More than 260 nominations were received for the Top 40 Alumni after a community-wide appeal. Representatives from the UFV Alumni Association and the university then selected the Top 40 based on a set of criteria that included community contributions, commitment to others, career/professional excellence, leadership, creativity/innovation, and acting with selflessness or courage.
See the whole list here.