It's that time of year again, when our fledglings take wing and fly away from the little nest of our English department. This year, the UFV convocation ceremony on June 6th proved that English grads aren't just fluttering—they're soaring high and strong.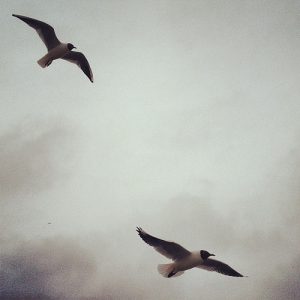 Photo Credit: .FuturePresent. Flickr via Compfight cc
It's been an impressive year all round for the UFV English department. We supported half a dozen Honours students doing fascinating and varied research; reflecting back on their colloquium in April, it's not surprising that we recently heard from a little bird at least one of them may soon be courting interest from publishers.
With such a strong cohort this year, our feathers were already puffing with pride at the thought of our two dozen graduating majors walking the stage at Convocation. But when we found out that English students all but took the stage, we nearly flew a loop-the-loop in celebration.
We were thrilled to see recent English alumni, Nikita Griffieon, as a speaker on the big day. Nikita distinguished herself in the English department by completing a creative writing Directed Studies project, taking a Work Study position in the Deroche Elementary Arts Club Program, and helping to develop the Read for Your Rights! Literary Mentorship Program as one of Michelle Superle's Research Assistants.
Nikita has always been equally passionate about reading, writing, children, and teaching, as she eloquently stated in the blog post she wrote for us a few summers ago. So we weren't surprised to learn that she also distinguished herself as a student teacher in UFV's TEP program—even if she surprised herself by rising to the challenge of supporting her students through five hours of lockdown after the shooting at Abbotsford Secondary last year. Members of the audience were fortunate she was elected as a speaker, since the insights and wisdom she gained from that experience provided valuable perspective for everyone. Nikita did us proud.
The accolades (and pride!) continued with this year's Dean's medalist—English department superstar Alyssa Krueger. That Alyssa has long impressed English faculty is clear from the nomination letter our department head submitted to the Dean of Arts. It begins, "Alyssa is an outstanding and well-rounded student who is highly regarded by all who have taught her" and concludes, "those who have taught Alyssa are in consensus that she is a highly promising academic writer and a most deserving candidate for the Dean's medal in the College of Arts."
UFV's Dean of Arts, Jacqueline Nolte, responded by acknowledging Alyssa's accomplishments with the incredibly prestigious Dean's medal. In a gracious speech during which she bestowed the award at the ceremony, Dean Nolte's commendation was appreciative and supportive.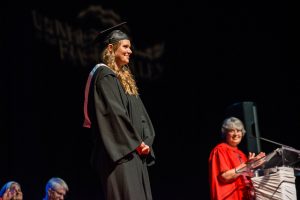 Alyssa Krueger receiving the Dean's medal from Dean Nolte. Photo Credit: UFV Today
Alyssa herself seems dazzled by the honour, noting humbly that she'd hardly even recognized her own scholarly growth until she was asked to submit a selection of essays for the award nomination. Then,
I realized how far my mind had expanded over the course of my undergrad. From my first essay of a semester to my final essay, I noticed a shift in my writing and thoughts that is because of the hours [my] professors [. . .] invested in trying to crank the wheels of my mind and make me shift beyond the simple and obvious explanations to a question and into new territory.

So thank you for challenging me and supporting me!
Well, that's what we do best—so you're welcome, Alyssa. And congratulations!
We extend similarly heartfelt congratulations to all of our English grads this year. We know the success you've achieved at UFV—and the recognition that you've received here this year—will be continually paralleled in the "real world" you're entering. After all, everybody knows that English grads are in high demand and earning impressive money out there.
So spread your wings a fly straight towards your dreams. The sky's the limit . . .