As we celebrate our new English graduates, we congratulate Riley Dueck on his new role as an ambassador for Bard on the Beach. His amazing journey all started with an English assignment . . .
By Heather McAlpine
Recent UFV graduate and English enthusiast Riley Dueck got the thrill of a lifetime when he was asked by Bard on the Beach, the renowned Vancouver Shakespeare festival, to make videos promoting their plays. How did Riley go from UFV student to Bard on the Beach ambassador? It all started in an English class! In this interview, Riley tells all…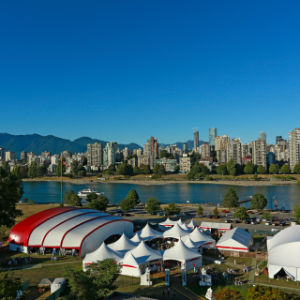 Photo credit: Bard on the Beach
How did you get started making videos?
I took Media in high school and enjoyed it, but my interest in filmmaking really spiked when I went on a documentary film trip to Uganda in 2012. Since then I've always liked watching YouTube, so I thought I'd join the online video conversation. I love to talk, so the shoe fit!
How did this partnership with Bard on the Beach happen?
I took English 309 (Editing Shakespeare) with Melissa Walter during the Fall 2016 semester. Her version of the course surrounded a lesser known Shakespeare text, The Two Gentlemen of Verona. About half way through the semester Bard announced Two Gents would be a part of their 2017 season. So, naturally, when the time came for my final paper/project I opted to do a video project in hopes that Bard would see it.
Here's the video that started it all . . .
After an entire semester heavily invested in The Two Gentlemen of Verona I felt I deserved to get free tickets to the show (haha!) So I publicized the video project and made sure that it had a little shout out to Bard On The Beach. When I submitted the project, I posted it on twitter mentioning Bard as well. After I did that, Bard contacted me about having a meeting, and it all took off from there!
Do you have a favorite Shakespeare play? 
Wow what a difficult question. First off let me say that all of Shakespeare is good. After taking a course on a rather "underground" play, I can attest that even the less popular plays can rock as much as the overly popular ones. I think it is really tough to pick a favourite, but maybe a group of favourites? Currently I'm rather obsessed with Much Ado About Nothing, 1 Henry IV and The Winter's Tale. However, some all-time favourites are Othello, Titus Andronicus, Coriolanus, and Merchant of Venice.
As for my favourite thing about Shakespeare. I just think the guy was just such an amazing story teller. While others tend to rave most about the language or the meter (both of which are fantastic), the thing that stands out most to me is the stories. I love to get lost in a good Shakespeare tale.
Riley's videos for BOTB so far: