Our CanLit Prof celebrates Canada Day with Canadian books . . .
by Ceilidh Hart
Really, what better way to mark Canada's sesquicentennial than with books? With its warm weather and slower pace, summer is always a time for reading lists, but this summer, lists about Canada and by Canadian authors in particular abound.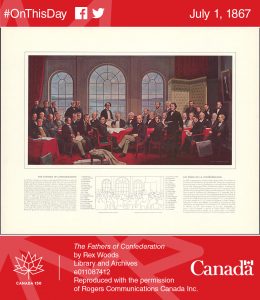 Image credit: http://www.bac-lac.gc.ca/eng/onthisday/Pages/introduction.aspx
And they're everywhere: The Vancouver Public Library has developed Community Reads: Canada 150 Reading List, CBC Books has published The Great Canadian Reading List, Good Reads has a List of Books to Celebrate Canada 150, Unsettling Canada 150 has put out Canada Must Read: The Unsettling Canada Edition, and even Chapters-Indigo has a Canada 150 Online Bookshop.
As I've been seeing these lists circulate around me, and as I've been adding to my own list, I've been thinking a lot about stories and storytelling. Renowned writer and cultural critic Thomas King insists that the stories we tell – about ourselves and about our communities – are crucially important. He says, "the truth about stories, is that's all we are." King invests storytelling with incredible power: stories don't just reflect lived realities, but they create realities. If we believe what King says (and I do), what better time than now, this summer, to take stock of our stories: What are the narratives surrounding us? Why do some stories resonate with us and other stories offend us? Who is telling the stories we hear, and why? What stories are being left out?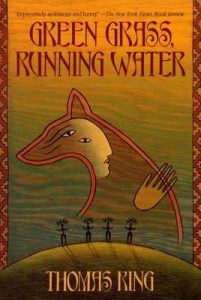 They're important questions, and they have everything to do with what it means to be Canadian.
So, if you're looking to add to your reading list this summer, why not start with one of our country's best storytellers: Thomas King himself? Read his 2001 Massey Lectures The Truth About Stories (or better yet, listen to them online!). And then read his hilarious and incisive novel Green Grass Running Water (1993), his Taylor Prize-winning work of non-fiction, The Inconvenient Indian: A Curious Account of Native People in North America (2012), and his Governor-General's Award-winning novel The Back of the Turtle (2014).
And, when you're finished, remember what he says about the social and moral responsibilities that come with storytelling: "Don't say in the years to come that you would have lived your life differently if only you had heard his story. You've heard it now."