In the latest addition to our Where Can English Take You? series, one of our most recent English 105 "graduates" shares his inspiring back-to-school story.
Student guest post by Don Duthie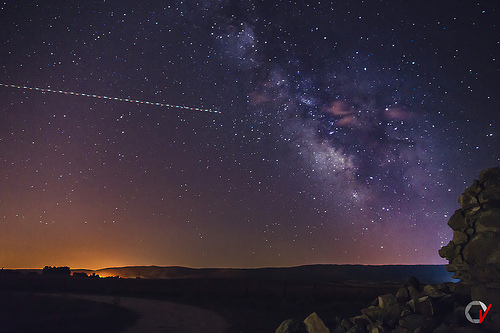 Crash! Snap! I was on my back. Spiral fracture of the tibia and fibula. Three days in the hospital and eight months of recovery.
It was time for a change. After some deep reflection, I decided to go back to university to follow my passion for Astronomy and Physics. One of the courses I need for my degree is English 105: Academic Writing. Yikes!
English has never been an easy subject for me, and I soon realized English 105 was going to be no different. Even worse, it had been twenty-five years since I last wrote anything formal. I knew right away I was going to have to dig deep and study hard.
I was determined to get it right this time. Admittedly, this is a lesson I did not learn when I last went to UFV. Young and unfocused, I stayed away from any English classes. I realize now I was little afraid. Back then I had no idea how much learning to become a stronger writer would benefit me. This introduction to academic writing has already changed my life.
One of the most helpful elements of the course was the text book we used, Writing Today. There were two particular chapters that stood out for me. Chapter 23, "Quoting, Paraphrases and Summaries," walks you through the current ways to quote and cite when writing for an academic audience. This chapter was paramount to our research essay. A closely related technique, learning to cite sources properly, was also a valuable lesson. Give credit where credit is due! This is the true currency in the academic community.
The second and my favorite, Chapter 17, "Developing Paragraphs and Sections," was a real game changer. This was the first time I experienced a text book that demonstrated a step-by-step approach to developing a paragraph. This approach helped me focus on the qualities and structure of a good paragraph.
It's hard to choose favorites though, because now I'm remembering that of course the catch phrase "Audience, Purpose, and Context" (Chapters 2 and 3) is my new mantra. From now on I will always approach any writing assignments with this in mind.
Being returning student, I now have a sharper focus on what has to be achieved and what it takes to achieve it. I now believe it is my duty to my family to do the best I can so this sacrifice is not in vain. I want to show my two teenage children that a university education is a journey. It takes years to complete, and many things can happen along the way. It's a shame that for some people what happens at the beginning is the stumbling block—the prerequisites are what stop many people from returning to school. They almost stopped me, but I realized this was something I had to do. After eight months of prerequisites I am finally entering my first year.
I'm thrilled to be here, no matter how challenging it's been to get to this stage. As good as the trades are for making money, there is the physical cost to the body. How long can I take the abuse? Will I get hurt again? These are the questions I asked myself. These are the factors that have led me in this new direction . . . this journey to my Bachelor's Degree.
The journey is already a great success, if you ask me. More than simply learning techniques to help me succeed on any writing assignments, I have also had a glimpse of that future. I recently became a member of the Royal Astronomical Society of Canada. In June, a position opened up, and I became the new "Director of Telescopes." I facilitate the telescope loaner program to RASC members and volunteer at public events. At my first council meeting they asked for submissions to the monthly newsletter, NOVA. I gathered my courage and submitted the essay I wrote for English 105, "My First RASC Meeting."  It was an essay about the language we use in our astronomy discourse community. The editor accepted it. My first publication! Here it is!
Click here, "My First RASC Meeting" and scroll to page 7 of the linked PDF.
NOVA has invited me to submit another piece, this one about the 2017 solar eclipses, and the event that RASC put on at Science World.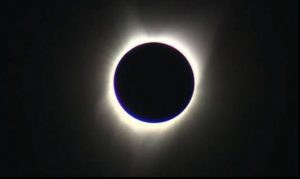 Photo Credit: Gordon Farrell
This opportunity would never have happened if I hadn't taken English 105. It has ignited a spark within me. Now more than ever I want to share ideas and communicate effectively.
With this in mind, here I am writing to you. To be able to communicate clearly and effectively is foremost in academia—but also in life. I have always wanted to be able to transmit my ideas to a wider audience, and I now have the tools to do just that. I agree English can be intimating. For some people, the last course they take is English 105. I'm glad I chose to study academic writing at the beginning of my degree, because I feel the skills will greatly benefit me. And they've already led to this blog and more future publications to come.
If you think something might stop you from following your dreams, no matter what your situation is, I can tell you that with great sacrifice comes great reward. Thank you, English 105, for sending me to the stars!