Taylor Breckles, a UFV English and history student, is studying literature and language in Poland this year. UFV English professor Michelle LaFlamme helped facilitate Breckles's exchange with the University of Silesia, a UFV partner university in Poland.
Student guest post by Taylor Breckles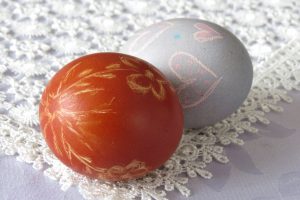 A couple of noteworthy events have happened since I last wrote. For instance, the semester is almost over now, which is weird to think about since that also means that it's almost time for me to return home. Right now I can say that time has somehow passed both quickly and slowly. That doesn't really make sense but once you experience a Polish winter you'll understand. Seriously though, as a Canadian I thought that I would have been better prepared for a true winter but boy was I wrong! I'll never forget sitting (shivering) on the bus and noticing fairly thick ice on the inside of the windows.
Anyway, beyond realizing the complexities of time, I was able to partake in another traditional Polish experience: Easter (and Easter Monday). Luckily, one of my Polish friends invited me to spend Easter with her family in her home village. This tiny town is exceptionally different from where I've been living and allowed me to experience a more traditional Polish lifestyle. Traditional foods were served for Easter dinner: żurek (a sour soup made with sausage, eggs, and potatoes, among other things. Really good!), potato dumplings, duck/chicken, and mizeria (a cucumber salad served like soup with lots of cream sauce and dill; also really good), as well as breads and sweets. We topped off the evening with a Moana movie night complete with homemade popcorn and Polish beer. All in all, one of my favourite weekends here!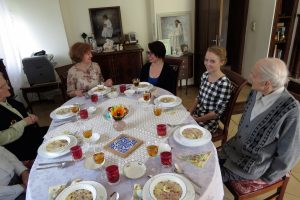 Easter Monday was also a day for traditions. Apparently it's commonplace for boys to wander around and spray girls with super soakers until they're given candy/money as bribes to go away. Yes, this happened to me and I got decently soaked. Still, it was fun to experience!
I have also found a new place wherein I basically live. It's called Cafe Kattowitz (a German version of the city 'Katowice') and I love it so much. The food is amazing, the coffee is excellent (a rarity in Poland, sorry Poland), and the vibe is very much one that I associate with the Victorian era because of the damask pattern on the walls and the classical music that floats through the café. It's a very magical place, as you might have guessed. And they make a killer lemonade, which is nothing to sneeze at.
This particular place is where I like to go when I have work to do: writing essays, marking papers, editing things, etc. I might not have mentioned before that I am a voluntary TA, so I get to experience a lot of the marking that comes with professorship. Let me tell you, grading over 100 long answer quizzes is not as easy as it might sound; hence the treasured trips to Cafe Kattowitz.
For any students (or profs!) thinking about coming over here, let me share with you some key Polish things that I've come to appreciate: pierogies in all their glory (spinach and feta ones are surprisingly amazing), what a miracle fresh bread really is, the time when the snow goes away (and doesn't return for a mid-April surprise), and craft beer. Beer is an experience here. It is cherished and loved and sometimes consumed in public. There's even a delicious brew named after the city in which I'm staying, Sosnowiec! Trust me when I say that the beer is better than the city (sorry Sosnowiec).
To conclude, I would like to inform you all that I have been spreading Canadian-ness to the Poles! One of my Polish friends here told me that I'm ruining her because when she ran into a chair she immediately apologized to it! Rest assured, fellow apologizers, that the powers of poutine are well at work over here.
Miłego dnia!  (That means have a nice day.)