It's often said that to make the most of your university experience, you should do more than just attend classes and study for exams.
Taylor Breckles takes that advice to heart. She refuses to give in to the commuter campus syndrome, and makes UFV's Abbotsford campus her home away from home even though she lives just 20 minutes away. And her sense of adventure will soon whisk her away for a year studying abroad in Poland.
Breckles will be spending the fall and winter semesters studying in Poland as part of UFV's Study Abroad program at the University of Silesia, a UFV partner university in Poland, where her UFV English professor Michelle LaFlamme has a connection that helped create the opportunity for Breckles.
The best part? Breckles recently heard that she was one of a select few students province-wide to receive a $10,000 Premier's International Scholarship to help fund her studies abroad.
While in Poland, Breckles will study English literature and Polish, adding to her repertoire of languages that includes varying degrees of fluency in French, Spanish, and Japanese.
Her research project while in Poland will look at the role of heroines in Disney movies and examine the cultural values they express. Her personal favourite? Belle, from Beauty and The Beast, because she's "a bit of an oddball who is always reading."
Now entering her fourth year of a BA program with a double major in honours English and History, Breckles can often be found behind the counter working in the UFV Bookstore.
She has also written for The Cascade student newspaper and done stints as a line cook in the student-run pub.
But last year she took her involvement at UFV to a new level, boldly asking English professor Michelle LaFlamme if she could use a research assistant when she ran into her at the bookstore.
"Taylor approached me in the bookstore last August and asked about research assistantship opportunities. She stated she would like to work for me. I had only known her as an undergraduate student in my English 105 class from years earlier. I was struck in a positive way by her assertiveness and decided to look into it for her."
LaFlamme found that there was funding available for an RA position, and put Breckles to work reviewing articles and theses, sourcing bibliographies, contacting publishers, and doing some editing in support of LaFlamme's work on Soma Text: Living, Writing and Staging Racial Hybridity, a book about racial hybridity theory (to be published in 2017 by Wilfred Laurier University Press).
This led to the two of them co-authoring an article ("The Good, the Bad, and the Ugly: A Review of God and the Indian by Drew Hayden Taylor"), which will be published in the Canadian Theatre Review, and to Breckles presenting an article authored by LaFlamme at the Death & Culture 2016 conference at the University of York in England in August.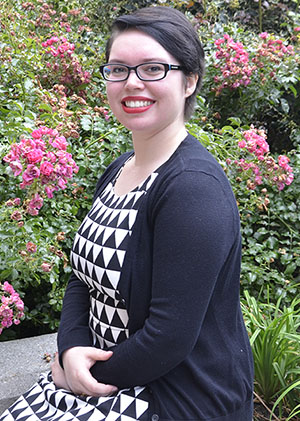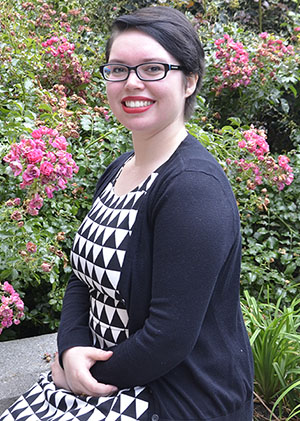 "It was an exceptionally enriching experience working for Professor LaFlamme as a research assistant," Breckles notes. "I experienced a little bit of what it is like to be a professor and gained a deep insight into the academic lifestyle, which I fell in love with."
"Taylor's journey at UFV is an amazing story of a very proactive student in our midst and I think this story deserves to be celebrated as an example of how one can utilize an academic space to further one's educational needs," notes LaFlamme. "It also shows the numerous levels of support that were offered to her throughout."
Breckles' first academic love, in elementary school days, was archaeology, particularly Egyptology (she has the tattoo to prove it). As a young girl she figured out that all the big names in the field had "Dr" in front of their names and set her sights on achieving a doctorate herself. As she progressed through UFV, it became apparent that English and history were here two favourite disciplines, so she went for the double major.
"I've always wanted to live in Europe so this study abroad year is a very exciting opportunity for me," says Breckles, who hopes to pursue a PhD and become a professor of English. "I'm fascinated by history, particularly European and ancient history."
Breckles encourages other UFV students to reach out beyond the classroom and enhance their university experience with extracurricular activities or work-study positions.
"If you work hard and keep your ears open, there are many surprising opportunities available here," she notes. "Just by serving people while working in the bookstore I've met people who I had no idea would be so influential in my career, opening doors for me."
John Potts of UFV International helped facilitate the partnership with the Polish university where Breckles will be studying, and Jag Deol of UFV Study Abroad encouraged her to apply for the scholarship.
She will be writing a blog during her time away.
Breckles and her mother are a family of two who moved across the country from Ontario seeking a better climate for her asthma, and her mom will be part of this journey too, going to visit her in Poland at Christmas and at the end of her studies.
Breckles will return to UFV in 2017 to finish her undergraduate degree.