SIETAR 2014 Congress Video Sts'ailes
Written By Shirley Hardman, Indigenous Affairs Senior Advisor, and  Marcella LaFever Ph.D
Holland, Germany, Australia, and from across the United States; these are just a few of the places that scholars traveled from to share their knowledge and to learn about "Shaping Identity: Land, People, Systems"the theme of the conference put together by the B.C. branch of the Society for Intercultural Education, Teaching and Research (SIETAR BC) and the international organization, Young SIETAR. They came to S'olh temexw (Stó:lo territory) to the community of Sts'ailes at the end of June, after gathering in Vancouver at Jericho Beach.  Local cultural leader Kelsey Charlie welcomed everyone and invited his 14-year old son (Ryan)  to dance a welcome for the SIETAR guests.
The University of the Fraser Valley's Senior Advisor on Indigenous Affairs, Shirley Hardman, and Communications faculty member Marcella LaFever enjoyed offering a workshop titled "Honouring Stó:lō place, identity, and spirit: The land teaches us how to live." The workshop used the focus of Stó:lō storytelling and UFV's experience of indigenizing the academy to stimulate workshop participants to think of their own stories of place and to see how they, as teachers, facilitators and leaders can honour the learner's identity and spirit by encouraging storytelling as a way of knowing.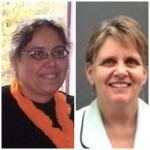 At the close of the workshop, the participants were asked to identify ways that they could add the lessons of the workshop to their personal teaching philosophies. In three groups, they developed three very different strategies to carry forward: an attitude of openness and care towards the learning; envisioning ways to bring the natural world into the classroom (or vice versa); and using arts to help learners express their stories.