Taylor Breckles, a UFV English and history student, is studying literature and language in Poland this year. UFV English professor Michelle LaFlamme helped facilitate Breckles's exchange with the University of Silesia, a UFV partner university in Poland.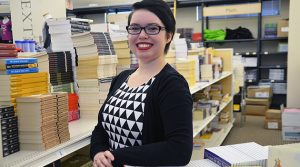 By Taylor Breckles
I am now a Canadian living in Poland.
What a strange sentence to type. In some ways it still doesn't feel real that I'm not going to walk out of my door and be greeted by Canadian mountains while in other respects living in a dorm in Poland seems perfectly reasonable. Strange, is it not? I suppose that's to be expected, what with living in a country which is not only located halfway around the globe from home but also one which uses a completely different national language; yet this experience is still surprising in ways that I find difficult to understand. I am a complete foreigner. I speak like a foreigner. I act like a foreigner.
But I am a local.
Even though every manner of my being – my speech, my mannerisms, my tastes, my awkwardness when physically embracing others – all point to my being an outsider, this country refuses to allow me to feel like one. Rather, it has embraced me with warmth and kindness and understanding. Some of this I mean literally, as it is still wonderfully sunny out here.
You must understand, however, that the poeticism of saying that the country itself has embraced me is not pulled from my arsenal of linguistic tools merely to make Europe seem even more romantic, but rather in an effort to convey what I have been experiencing. While the locals have also made me feel welcome, what with their attempts at small talk, patience with my lack of comprehension skills, and overall kindness, the feeling of being welcomed is more than a result of my social experience. There is something in the land itself. It sounds funny, I know, and coming from an arts student such a statement might only confirm our tendency to think in the clouds, but I'm afraid I don't know how else to describe this.
I'm sure some of this mysticism will fade with time, especially as the academic semester begins and I once again bury myself in books, notes, and Google, but for now I'm perfectly happy keeping my rose-coloured glasses on.
Don't get me wrong, there are definitely little annoyances that come with living in a new place (I mean really, must these young kids party until 1am?!) but they seem perfectly manageable when one can simply traipse downstairs, walk across the street, and eat some home-made food. I'm a firm believer that nearly every emotional difficulty can be fixed with fresh pasta. Again, we'll see if this mentality will continue once the real work begins.
As we say in Poland, do widzenia!