By Emily-Pohl-Weary
My Poetry Month Choice: "I Shout Love" by Milton Acorn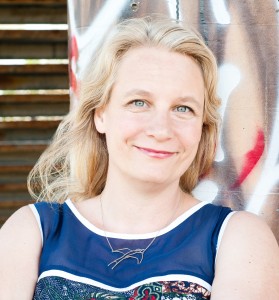 This is one of my favourite poems… and also the slightly weepy goodbye post from your 2015 writer-in-residence.
I'm back in Ontario already, and while I will definitely miss all of you guys, it's lovely here. The weather has FINALLY caught up to B.C., and I got a bit of a sunburn this weekend!
In honour of poetry month–and having missed one of the worst winters in recorded history, I thought I'd share this beautifully angry love poem by
Milton Acorn
called "I Shout Love."
Acorn (1923-86) was a fascinating guy, known as The People's Poet (there's
an award
named after him). He was born in Charlottetown, PEI, and lived from 1923-86. For a bit of context, this particular poem was written in 1958, when fusion bombs were invented.
There's something so determined about his love in this work. It's expansive enough to be embrace both an individual lover and
all of humanity
. Read it aloud, if you dare! Haunting.
I Shout Love
I shout love in a blizzard's
scarf of curling cold,
for my heart's a furred sharp-toothed thing
that rushes out whimpering
when pain cries the sign writ on it.
I shout love into your pain
when skies crack and fall
like slivers of mirrors,
and rounded fingers, blued as a great rake,
pluck the balled yarn of your brain.
I shout love at petals peeled open
by stern nurse fusion-bomb sun,
terribly like an adhesive bandage,
for love and pain, love and pain
are companions in this age.
~ Milton Acorn
June, 1958
From: I Shout Love and other Poems, ed. James Deahl. Toronto: Aya Press, 1987. p. 23.