By Heather McAlpine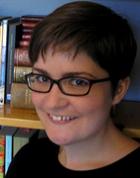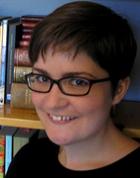 My Poetry Month Choice: "The Darkling Thrush" by Thomas Hardy
Nineteenth-century British poetry is what I teach, so I worried a little that my choice of poem was too obvious. Believe it or not, there are actually lots of non-nineteenth-century (and non-British) poems that I love (everyone should check out Alison Pick!)  But as hard as I tried, I kept coming back to "The Darkling Thrush."  I like teaching it because it so neatly captures a turning point between literary periods: we see the "corpse" of the nineteenth century stretched out on the desolate cultural landscape T.S. Eliot would soon re-imagine as a wasteland.  But that's not really why I care about this poem.
No: it's the bird. That little old bird, "gaunt, and small" – frail even by bird standards! – sitting out in the cold wind, surrounded by nothing but broken trees and fading sunlight – poor bird! – yet singing his heart out in the most ecstatic way. What's so moving about it to me is that this tiny, sickly creature chooses to sing despite all the bleakness. This bird knows that creating something beautiful isn't about waiting for inspiration or the perfect moment, because these are illusions. It's about hope – and hope is something you choose, often in spite of your circumstances: it's an act of courage, of defiance.
The Darkling Thrush
I leant upon a coppice gate
When Frost was spectre-grey,
And Winter's dregs made desolate
The weakening eye of day.
The tangled bine-stems scored the sky
Like strings of broken lyres,
And all mankind that haunted nigh
Had sought their household fires.
The land's sharp features seemed to be
The Century's corpse outleant,
His crypt the cloudy canopy,
The wind his death-lament.
The ancient pulse of germ and birth
Was shrunken hard and dry,
And every spirit upon earth
Seemed fervourless as I.
At once a voice arose among
The bleak twigs overhead
In a full-hearted evensong
Of joy illimited;
An aged thrush, frail, gaunt, and small,
In blast-beruffled plume,
Had chosen thus to fling his soul
Upon the growing gloom.
So little cause for carolings
Of such ecstatic sound
Was written on terrestrial things
Afar or nigh around,
That I could think there trembled through
His happy good-night air
Some blessed Hope, whereof he knew
And I was unaware.
~ Thomas Hardy