Saving lives is not your average on-the-job task. Firefighters require great physical strength and stamina simply to do their everyday job.
Part of the qualification requirements for firefighters includes passing a physical test. That's where UFV steps in.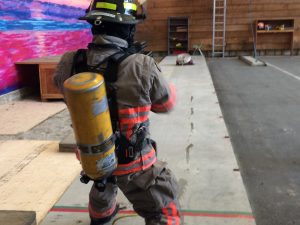 Students, alumni, and faculty from the kinesiology program delivered fitness and health testing to the Chilliwack Fire Department this month during a series of pre-employment screening exercises. The program is part of Healthy YOU-FV, a community engagement initiative designed to promote health and wellness.
UFV's role is to provide the fire department with details on the fitness and physical readiness of each candidate, screening information relevant to long-term health and wellness, and a ranking of all candidates applying for positions.
Paid-on-call firefighters from the Chilliwack Fire Department were put through a series of competitive occupational readiness tests that are associated with on-the-job responsibilities in order to identify individuals who have the attributes to successfully preform as a firefighter.
"Standardized assessments like the pre-employment testing we are doing at UFV is important for demonstrating if a person is fit to perform tasks such as climbing stairs, carrying equipment, and dragging a victim to safety, all while wearing a weighted vest," explains Amber Johnston, faculty member in the kinesiology department at UFV.
The program is also experiential learning for kinesiology students and a chance for UFV alumni to stay connected to the department.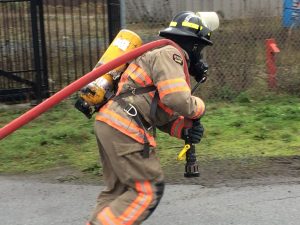 Johnston, Dr. Jason Brandenburg, and Dr. Iris Lesser, UFV kinesiology faculty members and exercise testing specialists, along with Warren Balzer, a UFV kinesiology alumnus and firefighter with the City of Delta, played an instrumental role in establishing and delivering the program. Under their direction, 14 UFV students tested aerobic and anaerobic power, muscular strength and endurance, and flexibility of firefighter candidates.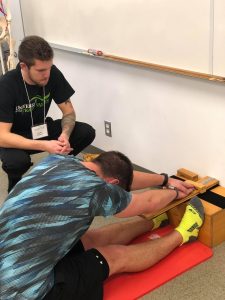 Hearing and visual acuity, body composition, blood pressure, and lung function were a few of the drills carried out by UFV students and alumni.
"As a UFV kinesiology alumnus who happens to have firefighter training, I felt I was able to bridge both worlds by giving back to the university by sharing my skills as an exercise physiologist and also supporting the local firefighter crew," notes Braden Wilkins, who graduated from UFV with a Bachelor of Kinesiology in 2013.
"This is an assessment tool for the fire department to determine if candidates are ready for the job," notes Johnston. "Students are learning to conduct health and fitness assessment that will give them a better concept of reality when they are working in the field."
Students also had the opportunity to shadow faculty while educating fire candidates on how to manage their health and during debriefing of testing results.
"Communicating with clients is a critical component to any health profession," notes Lesser. "UFV kinesiology students were able to apply their knowledge of physiology to hands-on experiences that helped them practice their communication and professional skills."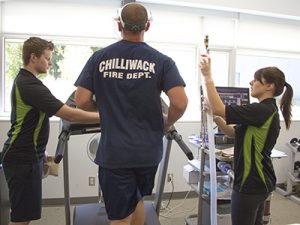 Building relationships within the community is a rewarding way to share the university's health expertise with the local community.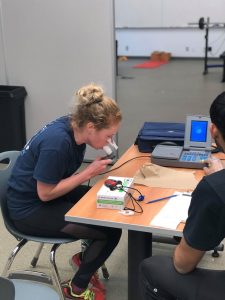 "We greatly value the opportunity we have had to work with the Chilliwack Fire Department over the past several years," says Dr. Alastair Hodges, Dean of the Faculty of Health Sciences. "Their forward thinking approach to health and fitness has enabled an excellent partnership, and has given us an opportunity to offer our expertise and to enable students gain practical experience."
The kinesiology department has also worked with the Abbotsford Fire Department and hopes to offer more opportunities in the near future for firefighter candidates to test their abilities.