In a space full of unfamiliar emotions, beeps, and eerie silence, you can find serenity in a group of dedicated medical professionals.
You're in the intensive care unit (ICU) where the sickest patients in the hospital are receiving one-on-one 24-hour monitoring by critical care nurses.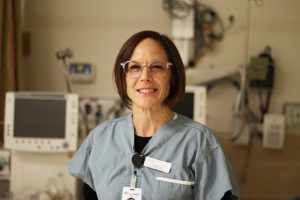 For Lisa Almos, it's a calling.
With her composure, attention to detail, and the comradery of her colleagues, it's clear from the moment Almos steps into the ICU she's ready to deal with the fast-paced environment of life threatening illnesses.
But she wasn't always on the path to become a nurse. Her parents encouraged her to pursue a career in teaching. Little did she know, a detour to nursing would come full circle in 2010 when Almos began teaching in the nursing program at UFV.
Almos graduated from the registered nursing program at BCIT in 1996 before returning to complete the RN access to the Bachelor of Science in nursing program in 2002 at what was then the University College of the Fraser Valley.
Her initial experience as a health-care professional was different from today. The nursing landscape was saturated with full-time staff and little turn over.
But Lisa was determined to pursue her passion for critical care. After graduating from BCIT, she landed a job with Mission Sumas Abbotsford Hospital in 1996 where she worked as a nurse before advancing her credentials with UFV.
"At that point ARH was called Matsqui Sumas Abbotsford and it was combined with coronary care and an intensive unit, "explains Almos. "I looked after patients who had suffered heart attacks, some were on mechanical ventilation or life support."
Part of her job was to assess and care for patients, and monitor heart rhythms and electrocardiograms, while teaching patients about treatment and advocating for health.
In 2003, Almos took a job in the cardiac surgery intensive care unit at Royal Columbian Hospital (RCH) in New Westminster to further her passion for cardiovascular nursing and work with a multidisciplinary team fully dedicated to the goal of improving quality of life.
To succeed in nursing, you need to have a finger on the pulse of a high-tech industry where learning never stops. Eager to continue her academic journey, Almos completed a Master of Nursing before returning to her roots at ARH in the ICU where she currently holds a casual position.
Variety in her career has a health-care professional has shaped the type of nurse she is today.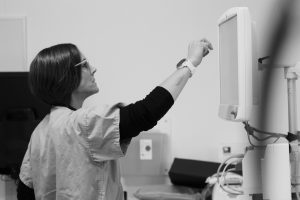 "One of the most satisfying roles in my career thus far was working as a clinical resource nurse to newly trained high acuity nurses at ARH. I bridged my love for nursing with my original plan of becoming a teacher," says Almos. "Seeing the value in giving support and guidance for nurses in order for them to provide better care for patients is so rewarding."
As a UFV faculty member, Almos continues to mentor nursing students and share her passion for critical care.
"The connection with patients is number one for me," explains Almos. "It is really easy to make a difference in your patient's lives, either by washing their hair or just listening."
Almos values the positive impact she can make on patients or family members as a nurse. She practises this philosophy in her role as a faculty member in the nursing program at UFV.
"Where others might find a patient difficult, I try to teach my students that taking the time to understand a patient or their family's needs is all it takes," says Almos.
"UFV was a part of my journey to nursing and as a faculty member in the program, I'm fortunate to support the next generation of health professionals."
Did you graduate from UFV with a  health sciences credential? Stay in touch with us! We'd love to hear from you.