By Heather McAlpine
Eighty Young Authors from elementary schools all over Chilliwack and Abbotsford came together at the UFV CEP campus on Monday, April 29 for the second Young Authors' Conference, organized by Professor Heather McAlpine and her assistant, English student Rebekah Bielefeld.
The Young Authors' Conference was conceived as a way to bring elementary students together with UFV English students in a celebration of literature and storytelling, allowing participants to share their passions and learn new skills for self-expression and creativity. The School Districts of Abbotsford and Chilliwack facilitated by recruiting the Young Authors, all of whom are students in grades 4 and 5.
Professor McAlpine explains,
I was lucky enough to attend the Young Authors' Conference that was hosted for many years at McGill University when I was an elementary student. It was such an important experience for me because I realized, 'oh, I'm not the only one who loves books and writing. There are lots of us!' Meeting published authors at the Conference also made me feel like it was possible to keep on doing those things as an adult – and I have!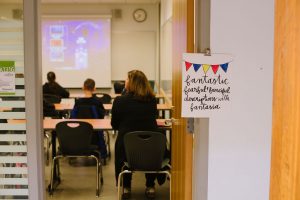 Building on the success of last year's event, which welcomed 40 Chilliwack students to UFV for a day of reading, writing, learning, and sharing their creative work, this year's Young Authors' Conference featured a total of six workshops created and delivered by dedicated UFV English students. These courses introduced Young Authors to writing vivid characters (Lauren Blakemore), incorporating sensory detail (Courtney Kienas), creating illustrated stories (Kirsten McAllister), narrative plotting (Ashlyn Roos), making found and slam poetry (Mia Davison), and working surprise elements into short stories (Jaydon Polischuk). Volunteers Bethany Cannon, Sandeep Gill, Shaylene Tieleman, Nadia Tudhope and Maria Weiss also worked hard to make sure the day ran smoothly.
After a pizza lunch, students were offered the chance to participate in an invigorating storytelling yoga workshop led by yoga instructor and UFV English student Christie Lucia.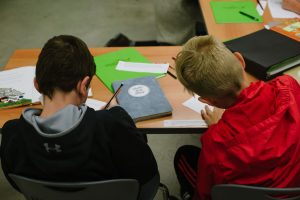 A highlight of the day was the Q&A and brainstorming session with professional author and illustrator Lee Edward Födi, who has written and illustrated the Kendra Kandlestar series as well as The Secret of Zoone. As Födi told the students, his least favourite job as a child on his family's farm was collecting eggs, because it meant dodging the rooster's sharp beak. But, he added, this experience is what ultimately inspired the fantastical dragons in his writing and illustration. Födi's talk and workshop encouraged the Young Authors to embrace imperfection, to see even messy scribbles as a source of creative development, and to remain open to inspiration in their daily lives.
The day concluded with a prize draw for books and a gift card generously donated by The Book Man.
The Young Authors went home with new notebooks, autographed copies of Födi's novel, a sheaf of new creative work, and – hopefully – a renewed enthusiasm for reading, writing, and telling stories.