Congratulations on your graduation! With funny hats and scrolls come questions about where to go with your English degree. Here are three UFV English grads who've used their skills to succeed right here in Abbotsford, across the world, and in the everywhere-at-once cyber realm . . .
Adam Simpson: United Nations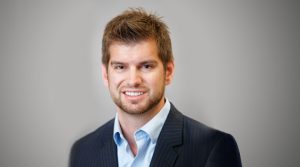 As a project management advisor for the United Nations Office of Project Services based in Copenhagen, Denmark, my work takes me all over the world—often to support development projects in difficult and complex environments.
I earned a Bachelor of Arts in English from UFV in 2006, then served as a director of the UFV Alumni Association from 2008 to 2012.
I then worked for a management consulting firm in Vancouver and went on to to Afghanistan to work with the Aga Khan Foundation on healthcare reconstruction efforts in the northern provinces, in coordination with NATO. During this time I also obtained a Master of Arts in Human Security and Peacebuilding from Royal Roads University.
As an avid reader and writer, the UFV English program helped me to gain an appreciation for a wide variety of literary genres, cultural and historical perspectives, and, of course, to find my own writing style. This solid educational platform helped me build a dynamic career; being able to communicate with clarity and impact are integral components of my job. It is equally important to be able to think creatively when trying to resolve large and complex issues. The UFV English program helped me enter the workforce with a variety of skills, and I am truly grateful for my experiences in the program.
Stephanie Gorner: Lawyer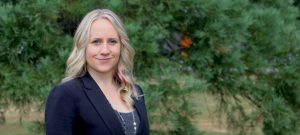 I am a lawyer and yoga instructor in Abbotsford, BC. I graduated from UFV with my Bachelor of Arts in English in 2006.
I sort of fell into studying English at UFV. I spent my first year studying sciences and then went away to France for a year to work as an au pair. When I returned to UFV, I knew I didn't want to study sciences anymore but wasn't sure what direction I wanted to head in. I decided to look through the course catalogue and just pick the classes that most appealed to me. It didn't take long to realize that I wanted to study literature—and UFV was a great place to do it. It was wonderful to study at a school with small class sizes, where it was possible to build relationships with professors.
When I went on to law school at University of Victoria, I found the skills I had developed during my time studying English at UFV to be a tremendous benefit. As it turns out, analyzing legislation is not so different from analyzing poetry. The close-reading skills I acquired through my English studies translated easily to reading legislation and case law. In addition, the strong writing skills I developed with the assistance of my professors in the UFV English department gave me an advantage in law school and that has certainly carried through to my career as a lawyer.
Lane Anderson: Editor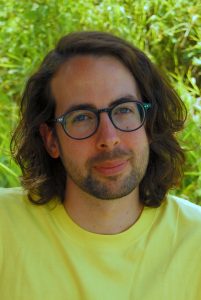 I graduated from UFV in 2014 with an Honours degree in English literature and am now the managing editor of PokerNews Canada, the country's largest poker news website.
Strong writing has been the key to my professional success. One of my very first articles landed me on a Toronto radio show to defend my tongue-in-cheek argument that poker might be a better game than hockey. I quickly proved that I could write strong articles and knew the industry fairly well, so I was offered the role of site manager only about three weeks after I started writing for PokerNews Canada.
My job as editor involves a lot of writing, editing, and researching, but also publishing and managing promotions, social media use, developing relationships with industry leaders and casino managers, interviews, bookkeeping, and constantly having a finger on the pulse of the industry.
The English department at UFV takes the credit for developing my writing and editing skills. The Writer-in-Residence is a great program, and I really appreciated the relationship I was able to make with Rex Weyler when he was on campus. The faculty in the English department were incredible. They always took a personal interest in the areas I wanted to research or discuss and treated me like an equal. I believe this went a long way in giving me the confidence to get to where I am today, not just professionally, but personally. Extra special mentions have to go out to Gloria Borrows, my English 105 instructor; Karen Selesky, who gave me my initiation to the Victorian literature that I now love; and Heather McAlpine for being a patient, encouraging, enthusiastic, and all-around awesome supervisor throughout my Honours project.