Jen Sookfong Lee's first workshop during her term as UFV's 2016 Kuldip Gill Writing Fellow was an incredible success. Held on February 23, in the Great Hall of the Student Union Building, approximately 65 students, faculty, and staff attended, making this the most popular Writer-in-Residence workshop ever!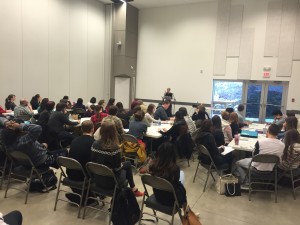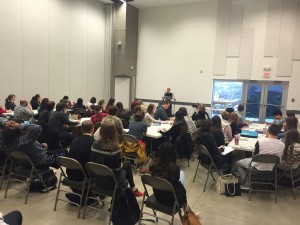 Lee explored the topic of "Writing the Body", talking about sexuality, intimacy, and physicality in fiction and poetry. Attendees wrote short pieces from writing prompts, and a number of students read their work aloud.
Don't miss the upcoming events with our Writer-in-Residence:
– Reading and Panel with Chelsea Rooney and Jordan Abel, Tuesday March 8, 12-1pm in the Great Hall of the SUB.
– Workshop "Writing Place: Navigating Class, Culture, and Gender", Monday March 21, 10:45-11:45am in the Great Hall of the SUB.
-Mission Readers and Writers Fest, Saturday March 5, 10-4pm at the Mission UFV campus.