Just about now, just about every UFV grad is hearing inspirational messages from aunts, uncles, grandparents, cousins, older siblings, and friends. Oh, the places you'll go! Follow your bliss! Do what you love and the money will follow! The world is your oyster!
They mean well, but we know graduation can be overwhelming—a time filled with more questions than answers. This can be especially true for English majors, who sometimes believe they're culminating their degrees without the readily applicable skills thought to be developed in trades programs. Heck, we remember feeling more like we were slogging through quicksand than soaring through the clouds. Figuring out the next steps seemed daunting.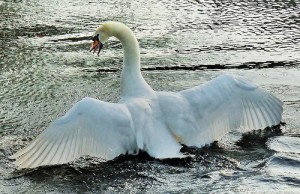 Photo Credit: Fulla T via Compfight cc
All those aunts and uncles have a point. There is a place for inspiration. In fact, here's more—from some of your favorite writers. It's a good moment to revisit J. K. Rowling's 2008 commencement speech at Harvard. She reminds us that that the twin superpowers of imagination and failure are invaluable to finding our way. And way back in 1977, Adrienne Rich delivered what is considered one of the best commencement speeches in history. She told the bright-eyed hopefuls of her day that
Responsibility to yourself means refusing to let others do your thinking, talking, and naming for you; it means learning to respect and use your own brains and instincts . . . . Responsibility to yourself means that you don't fall for shallow and easy solutions . . . . It means that you refuse to sell your talents and aspirations short . . . . It means that we insist on a life of meaningful work, insist that work be as meaningful as love and friendship in our lives.
Decades later, those words still ring true—and provide a welcome reminder. And speaking of meaningful work, if you're uncertain about the odds of being able to find it, here's some inspiration to help convince you that with a little perseverance, you can.
Besides inspiration, there's also a place for data. We've got that, too: Remember that English majors are some of the most in-demand graduates for professions as diverse as technology, medicine, and law.
We won't promise that the world is your oyster (although it's beginning to sound an awful lot like just that). But we're supremely confident you will find your place in the world—and thrive there.
Before you spread those capable wings and fly away, make sure to say goodbye. We'll meet you at the English department "welcome table" after the ceremony on Convocation day. Come on over for photos with your favourite profs, cold bottled water, and special graduate "horoscopes." You'll find us in Section 108, near the celebration area and other reception tables.