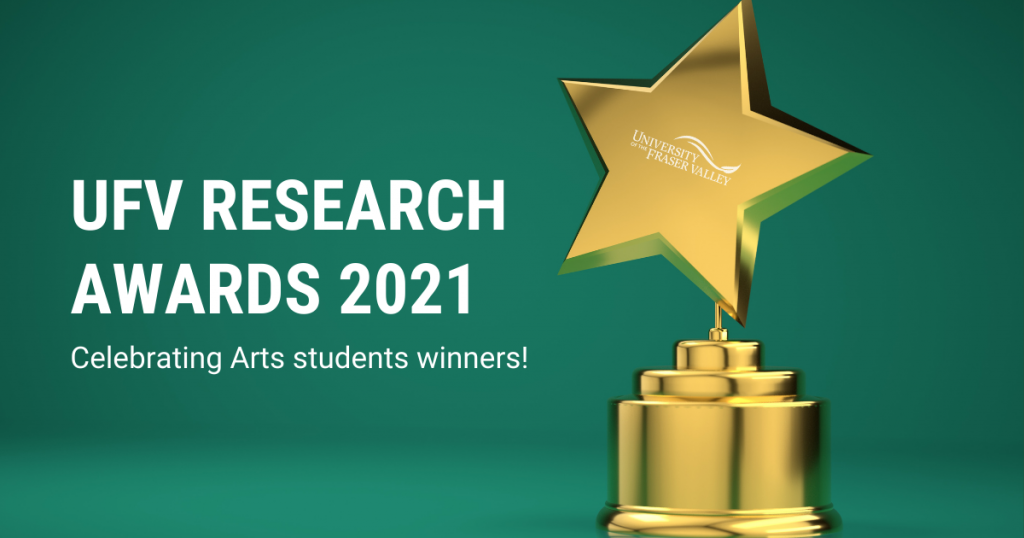 The 2021 Student Research Day featured 54 research projects created by 80 students from all areas of study at UFV. In addition, eight exemplary posters have been recognized with awards in honour of their scholarship. Among the awarded students, Arts students Regan Thompson (Psychology) and Michelle Grafton (Sociology) were awarded the President Award and the Dean, College of Arts Award.
Regan's project named "Death Anxiety and Spiritually across the lifespan: Factors and relationships amidst COVID-19" was supervised by the Psychology Associate Professor Dr. Lesley Jessiman and counted 308 participants, from young adults (aged 19-40) to older adults (aged +60). It presented a new perspective about the correlations between death, anxiety, spirituality, age, depression, and loneliness.
In response to the circumstances created by COVID-19, Michelle Grafton's project named "Enforcing the rules versus 'doing what's right': lived experiences of labour and delivery nurses in the context of COVID-19" introduced a new sociological standpoint of how COVID-19 affected healthcare workers, and specifically labour and delivery nurses whose work demands an extra-level of mental, emotional, and physical support essential for the birthing process.
In the light of such brilliant projects, the College of Arts is proud to acknowledge the high quality of research work produced by Arts students and their faculty supervisors. Each research project is one step forward to making a global difference and creating new perspectives and opportunities for everyday challenges.
Click here to view Regan's and Michelle's full project.