Helping high school students navigate racial identity
Anecia Gill, Socio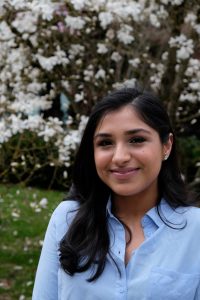 logy BA 2017
By creating an anti-racism mentorship workshop that she intends to deliver at Abbotsford high schools this fall, Anecia Gill was able to combine her passions for social theory and her hometown.
Gill's family has lived in Abbotsford for over 100 years and she feels a strong connection to this place. She is also drawn to sociology thanks to her mother, who took a degree in the same field and had all of her old textbooks on the family bookshelf. Gill completed her own Bachelor of Arts in Sociology at UFV this spring and in her final year she created the workshop in a directed study with Dr. Katherine Watson.
Inspired by critical race theory (DuBois, Fanon), which outlines the complexities of non-white racial identity, she wanted to help young people in Abbotsford navigate this complicated terrain.
"The root of this is the racism they face," she says. "I'm hoping that I can help explain . . . and legitimize their experiences so that they can better understand themselves and how they fit within society." Gill notes that when people have theoretical knowledge and vocabulary, they can better articulate their experiences and advocate for themselves within their communities.
Schools, she says, have had a long history acting as gatekeepers for legitimate knowledge, so offering an after-school workshop that attempts to critique power structures seemed like the ideal place. Her intention is for the program to help decolonize and validate non-white identity by legitimizing and supporting the lived realities of non-white students, in particular, Indo-Canadian youth, whom the program targets.
She admits that she can't teach high school students the ins and outs of critical race theory in five days, but she wants to spark their interest. And in doing so, she hopes to give youth some helpful tools to understand and negotiate their racial identity.
For a taste of what students will learn, check out Gill's course outline:
Day one: Cultural hegemony and power knowledge – Gramsci and Foucault
Day two: Critical Race Theory – Du Bois and Fanon
Day three: Brown experiences of racism – Said
Day four: Intersectionality of race and gender: a critique of imperialist feminism
Day five: Wrap-up discussion