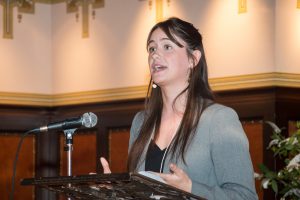 Maegan McKay is a recent University of the Fraser Valley (UFV) alumna, who completed a Bachelor of Arts degree (major in Global Development Studies and minor in Business). She currently is enrolled in the Master's of Public Policy program at Simon Fraser University (SFU), where she received a $27,000 scholarship and Research Assistant position. McKay also works in UFV's Student Life department as a Coordinator of Student Transition & Engagement.
During a virtual interview, we caught up with McKay to better understand her overall career trajectory and educational success. Read the full Questions-and-Answers below.
Was there a certain experience that stood out during your educational journey?
One thing that stood out to me a lot were the faculty. They are incredible. The profs really want to get to know you. My advice to students is to reach out to your profs, ask questions, and take the time in your classes to really connect with fellow students. The faculty at UFV really do care about your success. When I felt passionate, intrigued or amped up about a project or subject, specifically in my Global Development Studies (GDS) courses with Dr. Cherie Enns or Dr. Stephen Piper, they would find some direction for me to go. They would direct me to check out specific articles or connect me with internship opportunities. They just knew where to direct me and they took the time to do that.  I had to put in the time to go into an office hour or send an email, which can seem scary, but that's not the case at all at UFV.

Another experience that stood out to me at UFV was the breadth of opportunities for experiential learning. I partook in three internships at UFV. In my second year I went to Ethiopia, in my third I went to Kenya with the Queen Elizabeth Scholarship program where I worked with the United Nations Office for Project Services, and in my fourth year I worked with the Mennonite Central Committee in the Indigenous Neighbours Program. I found out about these opportunities by going to info sessions. These internships were incredible and were responsible for my professional and personal growth, and creating many networking opportunities. When I was in Kenya, I learned so much about myself. I learned a lot about policy as well in Kenya, and I think that's played a role in why I'm so passionate about public policy.

I don't think I would have received my scholarship at SFU, if it wasn't for the opportunities I took part in at UFV. It made me stand out.
What type of work are you in now and what's your current role?
When I graduated in December, I started working for the Student Life department at UFV. I had been working with them already as the Assistant for Student Transitions and Engagement. I've been able to do a lot of work relating to transitioning new and current students to UFV. This year is especially different because of COVID-19, so my job shifted a lot.

Now that I've started my master's program, and I received a Research Assistant position at SFU, I'll be working more part-time at UFV. In my Research Assistant position, I will be helping to create courses, which I have a lot of experience in from UFV. This past fall and summer, I helped with creating our online orientation. I didn't think that my work with Student Life would flow into my master's like this, but it really has. The use of public speaking, transitional work and course building at UFV has really flowed right into my current program.
What's your end career goal?
Anything related to policy analysis really gets me excited.

I'm really curious about mental health policy, foreign policy and Indigenous policy in Canada. Eventually, I would like to work for the government, either federally, provincially or municipally. I'd definitely be interested in working with mental health policy at the provincial level. As well, I'm curious about policy at smaller levels, such as at the University. There are policies at UFV that I've had the opportunity to learn about, such as the Sexualized Violence Prevention Policy, that are very interesting to me. I'd say my big passion is advocating to get Bill C-262 passed in Canada.
How did your program or educational experience help you obtain your career goals?
The Global Development Studies (GDS) program is very interdisciplinary. I had the opportunity to study sociology, political science, economics, business and many other topics. You gain a wide breadth of disciplines in the GDS program, and I think that really funneled well into the policy program that I'm taking. In every class that I'm taking in my Master's in Public Policy program, I feel as though I already have a very clear understanding of the content, whether it's political science, economics or foreign affairs. I think that's where I've gained the most help from the GDS program in general.
Can you explain how your educational journey has impacted who you are today?
It has made me become confident and independent. Every time I get scared about something, I say to myself: "I spent three months in Kenya alone, I can do this!" My passions are so much larger because of the internships I was able to do. I wouldn't be so interested in Indigenous relations, policy and advocacy in Canada if it wasn't for my internship with the Mennonite Central Committee. They're doing some really incredible and interesting work with advocacy and relationship-building that aligns with the Truth and Reconciliation Commission (TRC). I wouldn't have had that breadth of knowledge or the passion that I have now, if it wasn't for learning about the United Nations Declaration of Rights of Indigenous Peoples or the calls to actions in the TRC, and where policy is not aligning. I feel like I've been shaped by these experiences and had I not done them I wouldn't have uncovered my passions.
What types of skills did you gain from the GDS program?
As an arts alumnus, you can really do incredible things due to the skills you gain. For GDS, there are students going off to do their master's degrees, such as Alyssa Cook and Cathy McCarthy. Other Alumni are working for the federal government, and working internationally with a variety of non-government organizations (NGO).

The skills I've learnt include the ability to write a grant and funding proposal. I learnt a lot about proposal writing while working in the United Nations Office for Project Services (UNOPS), and also learned this skill while studying at UFV. Writing a funding or grant proposal is a great, competitive skill to have when working in the non-profit industry or in government. I also learnt a lot of research skills. I can use software to do both quantitative and qualitative research, which helps with policy analysis because you have an ability to look at data and see gaps. I have an ability to read large documents and skim properly to find the necessary information, and I have refined my public speaking. I also learnt how to communicate and problem solve with others and in groups.

My undergrad also prepared me by providing spaces for open discussion in classrooms. At UFV, I had small class sizes, and professors/students who provided spaces where sharing your ideas was encouraged. This made public speaking and debating something that I could practice. At a larger school, you might have 60 or even 600 students in a class and you might not feel as comfortable. I think the baby steps were good for me and allowed me to grow into my confidence.
Where are you hoping to be in five years?
My goal in five years would be to work as a Policy Analyst for a level of government, or an NGO. I think it really depends on how my interests shift during the public policy program, but I know I want to utilize policy to advocate and create change in areas such as Indigenous sovereignty, mental health, and foreign affairs.

And, hopefully, a little more down the line I would love to start my PhD and then come back and be a professor at UFV – that's kind of my dream.
Is there any advice you would give to future students in the GDS program?
My biggest piece of advice is firstly to take advantage of internships and opportunities available. There's funding inclusive to the Queen Elizabeth Scholarship. You might be interested in an international internship or domestic internship- why not do both? Both will make you become very employable, and help you uncover your passions.

A couple times throughout my program, I felt afraid and I thought, "What am I doing here?" "What am I going to do when I graduate?" If you're feeling afraid or unsure, I'd encourage you to lean into that feeling and keep trying new things that help you gain new experiences. I'm so happy that I did.

Connect with your profs and talk about your interests as it relates to your classes. They may have something interesting to connect you with- whether that be an article, a piece of knowledge, or an opportunity!

So, that's my advice: keep pushing, keep getting out there and keep connecting. You got this.
Interested in an Arts practicum or internship opportunity?
Learn about our Global Development Studies program: https://www.ufv.ca/programs/global-development/