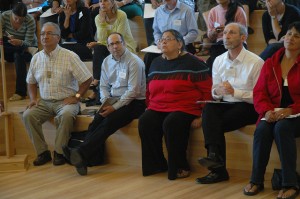 Staff (Caucus) observed that it was very easy to underestimate the challenges involved, and wondered how to make the curriculum more balanced for aboriginal students, and if there were a way to incorporate and promote understanding through staff training and development.
It was suggested that ceremonial activities, like sweats, were important to indigenization, as they convey the spiritual component and basis for "good heart and good mind", and could be healing for participants, and for overcoming fears.
All stakeholders – unions, churches, and others – and not just the academy need to participate in decolonizing what was called "the entrenched colonizing/settler mentality". It was stressed that all members needed to be mindful and be ready to challenge areas where they saw the need for transformative change. Staff urged their colleagues to "walk the talk" when they returned to their institutions from the conference: they were to get past the blank stare, not to just talk with the other person, but to move to action.
Also recommended was incorporating aboriginal participation into the program development process right from the beginning. It was noted that in some institutions and communities, there was a very defined segregation between aboriginals and non-aboriginals. Personal as well as institutional engagement was recommended, along with the observation that immigrants in particular can find it very hard to understand what's going on for aboriginal people when the immigrants themselves haven't learned aboriginal history in Canada, and perhaps there needed to be more proactivity in engaging with the immigrant and aboriginal community.
Working with all groups rather than "on" them, in order to provide the best support, and bringing together people who could apply their content knowledge to solve different problems was highly recommended.  Above all, avoiding "tokenism" – rethinking the system and viewing the university as contributing to the community – was suggested as a method for breaking down barriers.
Tags: UFV Caucus, Personal and Institutional Reflections