What do English profs do during the summer? We read, of course!
And when we read, we get so excited that we can't help raving about the books . . . because, hey!–you might like them, too.
Michelle Superle: What I'm Reading this Summer
As I ease towards my sabbatical, I'm reading widely and broadly—for fun, as well as in anticipation of my new research project . . .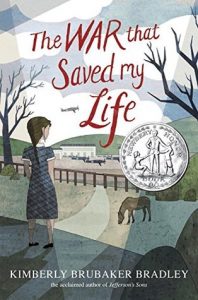 The War that Saved My Life, by Kimberly Brubaker Bradley
This book is right in my wheelhouse—middle grade fiction set in mid-twentieth century England (exactly what I focused on in my Master's thesis!). Plus, horses! It came highly recommended by several children with impeccable literary taste and a colleague with the same who blamed the book for keeping her up all night because it was too good to put down. The War that Saved My Life doesn't disappoint. All that, and it's utterly child-centered, too. Huzzah!
Happy: Why More or Less Everything is Absolutely Fine, by Derren Brown
As a children's literature professor, I trade in peddling literary happiness. So you wouldn't expect to find me reading an examination of the perils of positive thinking. But I am. And loving it. In a way, Brown's thesis that we're approaching happiness all wrong parallels the rise of realism and honesty in children's literature that has become increasingly mainstream since the 1960s, which is kind of neat.
Eat Like a Fish: My Adventures as a Fisherman Turned Restorative Ocean Farmer, by Bren Smith
Did I mention I'm a sucker for memoir? It's my second favourite genre after middle grade fiction and my most favourite genre for grownups. And since my sabbatical project explores children's books about agriculture, I'm enjoying the excuse to read every memoir about farming I can get my hands on. Interestingly, almost all of them include reflections on the author's childhood agricultural and literary experiences. Oh man, I love my job! Many farming memoirs are depressing, focused as they are on a disappearing livelihood and ravaged earth. But others are inspiring—like this one, that chronicles Smith's about face from pillaging to healing the seas. So far, he's convinced me to eat more kelp and scallops. Yum!