Have you ever lost your zest for reading?
Lucy Fraser, a UFV SWHS instructor, discovered an unexpected fix to rekindle the spark: she began facilitating a local chapter of Book Clubs for Inmates. Based on the principles of bibliotherapy, this prison book club provides books and discussion to inmates in Medium Security at the Fraser Valley Institute for Women.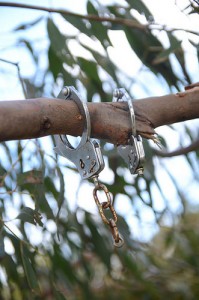 Photo Credit: avlxyz via Compfight cc
Lucy responded to a request for facilitators from the non-profit organization's founder Carol Finlay. Hoping she'd be able to both help out in the community and get back into reading, Lucy toiled to get the Fraser Valley women's chapter up and running.
Bringing her formidable experience in Social Work to the table, she drew on the wisdom of practice developed in her current role as Director of Programs for the Chilliwack Hospice Society. Even with this impressive background she underwent training sessions with both Book Clubs for Inmates and the prison's Social Program Officer. Her mission was clear: Lucy knew that she was expected to expedite the program's ultimate goal of transformation.
What she didn't expect was the additional benefits to participants. Of course they enjoy the books. Certainly they appreciate a break from regular prison routines. But the book club also seems to bring out the best in participants. They warmly welcome newcomers to the program. They nurture one another's progress and support each other's ideas about the books. We're not surprised—this is the power of reading in action. Books are social glue.
Participants have especially enjoyed My Family and Other Animals by Gerald Durrell, The Rosie Project by Graeme Simsion, and The Art of Racing in the Rain by Garth Stein.
As for herself, happily Lucy has indeed regained her own love of reading. The book club reading list has exposed her to fascinating stories she would never have picked up on her own, like The Absolutely True Diary of a Part Time Indian by Sherman Alexie, Station Eleven by Emily St. John Mandel, and Prisoner of Tehran by Marina Neemat.
Better still, it's helped her to realize what the problem had been—she was stalling out on fiction, never realizing her true love is creative non-fiction. Books like The Coldest Winter by David Halberstam, Into Thin Air by John Krakauer, and The Year of Magical Thinking by Joan Didion have reignited her literary love.
Sounds like a win all round—and plenty of good reasons to keep reading.