Rumour has it UFV is a commuter campus lacking a vibrantly engaged community.
But on March 13th, 2015, the English department proved that's not always the case. It seems UFV commuters simply need something to get vibrant about and engaged with. And what brings 60 or so of them out to campus—on a Friday, no less? Seventeenth-century epic poetry, apparently.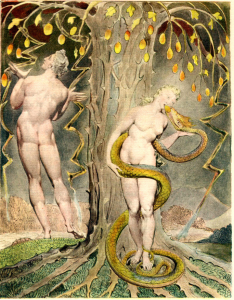 Professors Melissa Walter and Tim Herron organized a marathon read-aloud of every book, every verse, and every word in John Milton's Paradise Lost. That's twelve hours of poetry. That's a lot of readers (44). That's commuter and community commitment.
It's true geek love.
When asked what inspired the epic event, Herron explained,
First, we know that the work is notorious for intimidating students, so we thought that a dramatic reading would help people to see that there is a simple story at work in the epic that is quite approachable and fundamental to humans. Second, there was the novelty factor. Every reading of Paradise Lost in the public domain features one person reading all of the work or a group of people taking turns – one person reading Book 1, for instance, another reading Book 2 – and so on. We wanted to illustrate that the work is fundamentally dramatic and is strongly influenced by Shakespeare.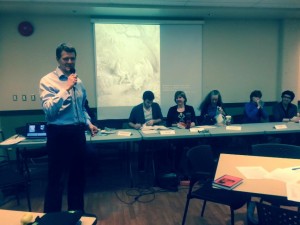 It wasn't just the reading that required stamina; there were also colossal logistics to contend with before inspiration became reality. The word had to be spread, and the sluggish blood of commuters needed firing up. Then there were parts to assign, schedules to organize, and snacks to procure.
Was it worth it? Yes, said Walter: "The poem gives us an opportunity to contemplate how we treat each other and the earth. It was definitely worth it. We saw sides of students and colleagues we hadn't seen before. There was a great feeling of community."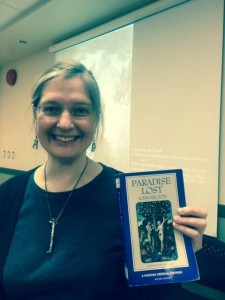 Beyond enthusiastic participants, the reading inspired both organizational and artistic responses from students. The Cascade's Valerie Franklin contributed significantly to the event's success, with early and continued enthusiasm and optimism, by creating a slideshow, providing table decorations, coffee, and angel food cupcakes, by signing up numerous readers, and by reading brilliantly herself. Student Linda Williamson was sketching throughout the event, and her rendering of professor Virginia Cooke reading is lovely.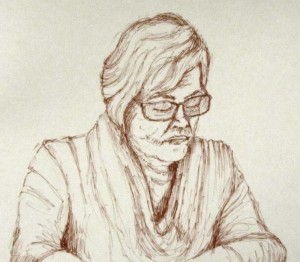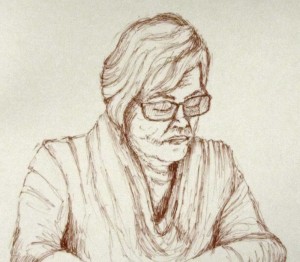 Cooke herself praised the event, saying, "Tim, I can see why your students all end up loving Milton's work. When you read him aloud, it's positively electric!"
Paradise Lost and found at UFV was such a resounding success that there's a new rumor spreading: the English department may organize an annual read-aloud marathon.
Despite the enthusiasm, exhausted marathoners might agree that next year a series of sprints could be in order. Maybe back-to-back picture books on World Read Aloud Day?