By Heather McAlpine
The scene in this classroom is significantly louder and more intense than you might expect: passionate, rapid-fire discussion; challenging commentary; soul-searching questions; uproarious laughter.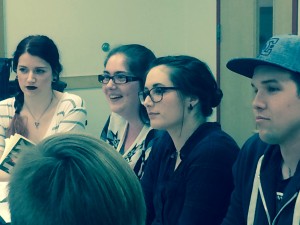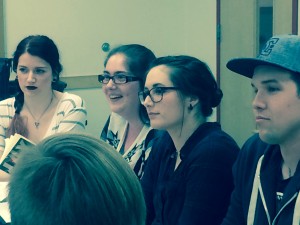 "Is it always like this in here?" I ask. The class erupts into shouts and applause.
"Well," says John, "yes."
Professor John Carroll's Seminar in Creative Writing (English 405) is unlike any other course offered this term: over the course of the winter semester, 21 students will work to complete their manuscripts – 20 novels, and one play. Their deadlines are determined by the students themselves, but they receive guidance, feedback, and encouragement from their in-class workshop groups and John himself. "Every one of them by the end of term should have a completed piece of writing they can be proud of," John explains.
Along the way, they also read, present on, and discuss a number of published novels. John directed each of the groups to pick two novels from a list; two members of the group would read one novel, and two would read the other, and the group would plan a joint presentation about the works. "These presentations were remarkably successful, innovative, and provocative," John reports. "Some ran for almost two hours before I had finally to stop them. The level of learning through this kind of 'play' was intense and palpable, and exciting."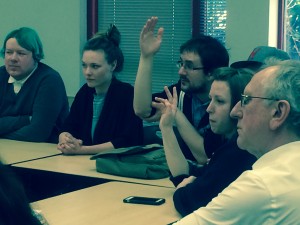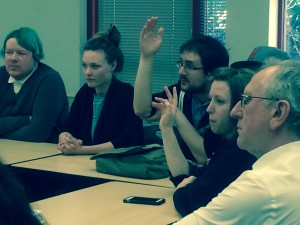 Aside from smaller class size, more intimate discussion, and deeper exploration of literary themes, concerns, and craft, the level of responsibility the students take for their own learning is one of the main differences between 400-level seminars and other upper-level English courses. "Students are expected to take the lead in class discussions," says John; for this reason, "they are exceptionally motivated and energetic."
But what accounts for the incredible dynamism in the classroom? "I asked the students this question," says John. "Their response was that they had chosen the class because writing was their passion and something they wanted to pursue…. I like to think also that by my giving them the freedom to, as much as possible, direct their own learning, they were able to seize that opportunity and make the best of it."
He adds: "I can truthfully say that this seminar was one of the highlights of my teaching experience."
Keep your eyes on the prize (well, the UFV timetable, anyway) for future seminar offerings. The English department offers three possibilities in rotation: ENGL 401, Seminar in Rhetoric and Literary Theory; ENGL 403, Seminar in Literature; and ENGL 405 credits, Seminar in Creative Writing.