Hey, hey! Emily P-W, your local writer-in-residence, back with an update. What a week!
Just seconds ago, I sent off my introduction to the 2015 Louden Singletree, which I'm thrilled to reveal is a fantastic new collection of poetry, fiction, and visual art by UFV students. This issue has a little of something for everyone: high fantasy, mythology, outlaws, the bittersweet pining for a dream girl who doesn't exist, and a marriage that occurs after the end of the world. It launches on Monday, March 30. You won't want to miss it!
Speaking of launches, we celebrated my brand new book of poetry, Ghost Sick, at the Aftermath on Wednesday night. It was a glorious night of poetry, and student readers Jasmine Kaur and Katie Stobbart stole the show. I wish we could have recorded them! Despite being nervous about taking the stage (the subject matter is heavy), I was thrilled to be able to share this collection with faculty, some of my students, and other UFV lit lovers. Here's a photo: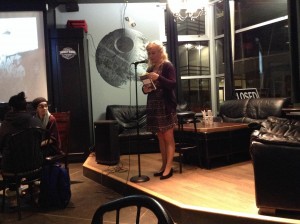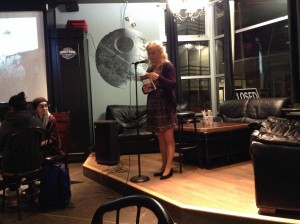 On Monday, I visited Professor Andrea MacPherson's second year poetry class. The students asked some of the best questions I've ever heard. We talked about what it's like to put together a book-length work of poetry, how to write in voices that aren't our own, the process of editing poetry (which is very different from editing fiction), and the ethics of scavenging through our own lives for inspiration.
And on Tuesday evening, I was out in Mission, attending a meeting of the Fraser Valley Branch of the Professional Writers' Association of Canada. One of the members did a great presentation about pitching to magazines. If anyone's thinking of living the freelance writer's life after university, PWAC is a great resource and a friendly bunch of hard-working folks. Also, they hold their meetings at a restaurant. In case anyone's wondering, I ordered the most delicious seafood pasta with fresh herbs and handmade noodles… It's a hard life.
Phew! Big week.
This coming week promises to be even more exciting.
Literatures of the Fraser Valley Conference is on Thursday. What an amazing list of workshops being presented, by local writers. I'm doing a short reading at 7pm at the Aftermath, but mostly just looking forward to being a fly on the wall and learning a TON about Valley literatures.
Mission Writers and Readers Festival is on Saturday. I'm doing both the keynote presentation and leading a workshop. Evelyn Lau, who wrote Diary of a Street Kid, will be there. As will Daniela Elza, last year's Kuldip Gill Writer-in-Residence. Exciting!