Mia Harries is the 2018 recipient of the Faculty of Health Sciences Dean's Medal. Harries will accept her award at the Faculty of Health Sciences convocation ceremony today at 9:30 am in Abbotsford.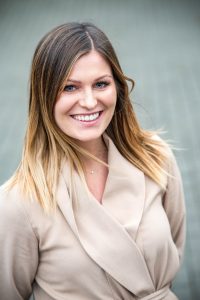 Meet Mia:
Where are you from?
I was born in Ottawa, Ontario and have lived in Chilliwack for the last 13 years.
What program are you graduating from?
Bachelor of Kinesiology, exercise science stream.
Why did you choose UFV?
Like many students, I chose to attend UFV for the convenience of living at home, and the small campus and class sizes. Initially, I was drawn to these features as I felt they would equip me to succeed academically. However, I quickly realized that the real highlight of attending UFV was that I could expand my bandwidth of involvement beyond the four walls of the classroom.
What are your career aspirations after graduation?
I will be attending UBC Medical School this fall. I am interested in preventative medicine and the integration of social determinants of health into primary care.
How has the Faculty of Health Sciences at UFV helped you reach your goals?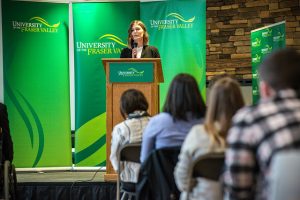 The range of courses offered in the kinesiology program cover concepts from sociology and psychology to pathology and motor control. As a result of the variety of courses offered, the kinesiology program has shaped my understanding of the holistic approach to health and the various factors that influence an individual's well-being.
I built great connections with my professors which opened doors to many exciting experiential learning opportunities. I am grateful to the professors in my program who continually seek to provide students with experiential learning opportunities to get involved in the field of health sciences. The experiential learning opportunities I have participated in through the Faculty of Health Sciences have enabled me to apply theoretical concepts to practical scenarios. It has also bolstered my passion for population health and has supported my goal to pursue medicine. I feel fortunate to have been part of such an engaging faculty.
Through connections established in a practicum placement and with faculty in Health Sciences, I created a volunteer program at the Abbotsford Regional Hospital called the Resource Navigation Program, that allows UFV students to connect patients with the social determinants of health. UFV supported me in initiating this program, which demonstrated the dedication of this institution to student-focused education and experiential learning.
Outside of academics, what activities have you been involved in at UFV?
Early on in my degree, I became involved in many non-academic activities in order to uncover interests and skills I would have otherwise never thought I'd have.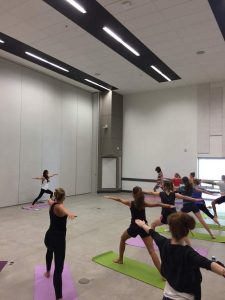 These activities include:
Volunteer activities at UFV

UFV student ambassador (hosting workshops at New Student Orientations)
President and yoga instructor of UFV Yoga Club
President of Kinesiology Student Association
Mentor for UFV KINPALs program
Fire fighter fitness testing student volunteer
Student representative on the Faculty of Health Sciences Council
Employment at UFV

Peer tutor at the Academic Success Center
Supported Learning Group (SLG) leader and SLG mentor
Work-study student & research assistant for ADED 423 (Mindfulness course in the Adult Education Department)
Research assistant for Exergames Study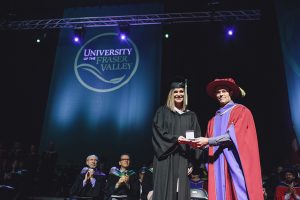 Do you have any advice for future students taking programs in Health Sciences?
Become involved in as many different opportunities as your schedule will allow. You may discover an interest you never thought you'd have and you will build connections that will serve you in the future. Become an active consumer of knowledge by continuously asking questions and connecting concepts between different courses in order to enhance your understanding of health and well-being.
What was your favourite course while you were an undergraduate student?
My favorite course was KPE 370: Human Physiology II. I applied anatomy concepts learned in KPE 170 (Basic Human Anatomy) to physiology and pathology concepts learned in this course. The case-based learning in KPE 370 cultivated my problem solving and critical thinking skills, which will be an asset for medical school.
How has UFV shaped you as a person?
I started university as a shy student, who was afraid to talk in class or approach my professors. Over time, I gained confidence to ask questions and participate in activities that stretched me outside of my comfort zone and caused me to grow into a curious and goal-oriented global citizen.
Describe your experience at UFV in the Faculty of Health Sciences in one word.
Unforgettable.