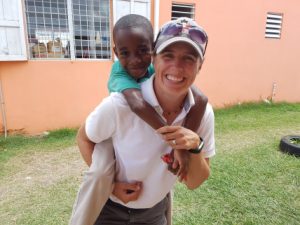 On the island she's known as Dr. Jo and her enthusiasm for health education is contagious.
Already in its thirteenth year, the Champions for Health Promoting Schools program in Antigua, West Indies continues to raise the bar on international educational experience.
The program is intended to improve the life chances of children within Antigua, West Indies through health and physical education. UFV students from the Bachelor of Kinesiology program play significant leadership roles at local schools in Antigua that integrate health promotion into the curriculum.
"It's about sustainability and collaboration," notes Dr. Joanna Sheppard, UFV kinesiology faculty member and director of the program. "UFV students are not only sharing their physical and health knowledge but also learning from the Antiguan teachers."
This year Sheppard's group was the largest it's ever been with 35 student champions ranging from UFV programs in kinesiology, education, and geography. Even a few alumni returned to the island, like Marissa Corea who felt drawn to the program after spending three consecutive cycles working with Antiguan teachers.
"The first year I went into the program I was determined to be a lawyer. I was going to be a part of the program for one year only and then move on and focus on going into law. I'm now studying to be a teacher in Calgary because being a champ for health made me realize what I am truly passionate about," says Corea.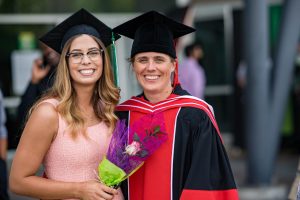 UFV student champions draw on their knowledge from pedagogy and exercise science to teach Antiguan students movement skills from lessons they prepared over the winter academic semester. The idea is to connect life skills to game play. At the end of each lesson, Antiguan students are asked to make connections to their learning.
"This is important because the age-old attitude of competitive sport in physical and health education doesn't work. Not all students enjoy sport specific activities. We have to teach students about the relationship between sport, movement, and how to be mindful of the choices they are making about their health," says Sheppard.
New this year, the Champions for Health program launched a partnership with two secondary schools.
"We see students when they start in kindergarten and work with them each spring until they are in grade 6. It's exciting that the cycle will keep moving forward to secondary school," says Sheppard.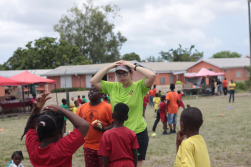 UFV champions worked closely with physical education specialists in the Antiguan secondary schools to teach students about substance abuse in sport, gender and sport, healthy weight loss, and holistic health.
It doesn't end there. Brian Justin, UFV kinesiology faculty member, continues to provide opportunities for UFV students to be exposed to hands-on-learning as part of his sixth year working with elite coaches and trainers on the island. Justin oversees the delivery and administration of the Performance and Movement Specialist Certificate.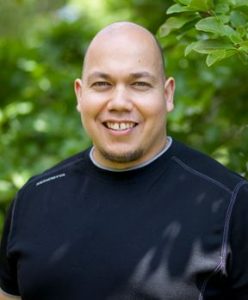 The credential provides much needed professional development for Antiguan coaches and trainers.
"We were finding that Antiguan athletes are over training. We are teaching trainers about core conditioning, mobility and stability, energy systems, and functional training," says Justin. "They have very little opportunity for professional development. This certificate allows them to train young Antiguan athletes following the standards for training in North America."
At the end of their teaching day, Dr. Jo sends her champions to Justin for an added experience. "The UFV students are my right and left hand. They are solidifying what they learned in their kinesiology classes and applying it to real problems," says Justin.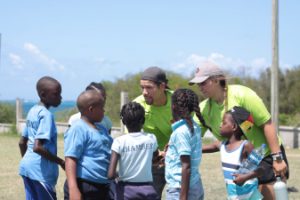 The underlying principle of the project is to bridge the connection between high level sport and physical literacy skills. "We want them to see that the movements they are doing in sport in high school and beyond start with being active and healthy from day one," explains Sheppard.
Every element of the program speaks to sustainability and investment in Antiguan society. Training the coaches to provide quality services, and working with teachers to develop physical literacy and health education curriculum ensures that locals remain on the island. "We resigned our MOU with the Minister of Education, Science and Technology. We are one of the few ministry supported programs in Antigua. I had the opportunity to present to Minister Michael Browne and 20 cabinet members," says Sheppard. "They support what we are doing because we collaborate with them."
Moving forward, the Champions for Health program is looking to pursue partnerships with other Canadian post-secondary institutions to expand international learning opportunities and collaboration across boundaries.