Bringing visibility to an invisible disability was the mandate of a recent research project exploring the lives of individuals living with chronic pain.
According to a public opinion survey, only 50% of Canadians believe chronic pain exists. Those suffering from chronic pain, hope this perception changes.
"Bringing awareness and visibility to the reality of living with chronic pain was important to the participants in this project," says JoAnne Nelmes, a Nursing faculty member at UFV.
"Chronic pain required visibility and participants felt telling their stories would assist community members to understand their challenge of coping with daily pain and fatigue."
Each unique story conveyed the inner strength and resilience of participants — a snapshot of the daily fight to overcome physical, psychological and social barriers.[quote]"To me life is not about an absence of pain, it's about an ability to be working, to continue doing the things I enjoy," anonymous research participant from Nelmes' study.[/quote]
Once Nelmes started teaching about chronic pain, she realized that this invisible disability impacted members of her own family. Her passion turned into a research project in June 2015, where she quickly realized that age is just a number when it comes to chronic pain.
Chronic pain is a disease that impacts individuals of all ages, a Canadian Community Health Survey from 2007/2008 reported that about one in ten Canadians aged 12-44 experienced chronic pain.
In the study conducted by Nelmes, participants ranged from 24 to 81 years of age.
Of the 20 volunteer participants interviewed for the study, six had chronic pain resulting from illness while 14 developed chronic pain due to accident or injury.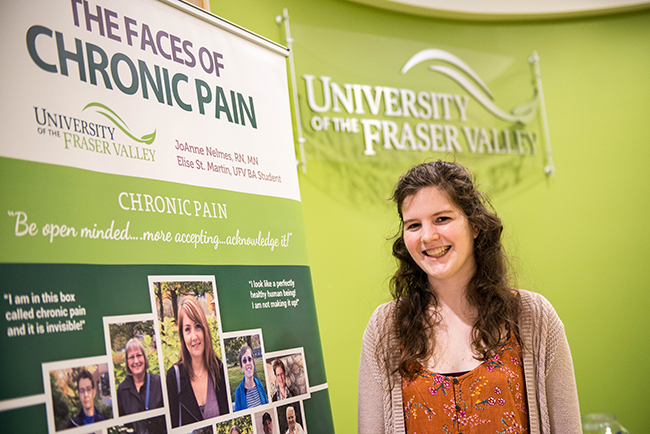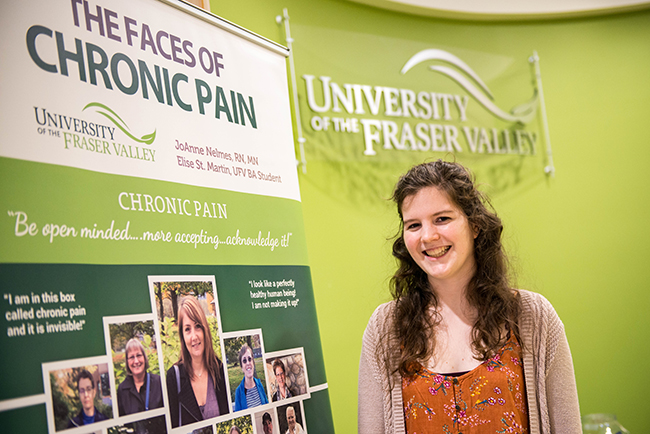 "I felt people living with chronic pain needed a voice in the community who could advocate for them; dispel the negative associations and further understanding of chronic pain," says Nelmes.
"My next step is to focus on levels and types of activity that positively influence persistent pain."
To date, this research has been shared as a poster presentation at the Canadian Association of Schools of Nursing (CASN) in Toronto. It was also part of the 2016 UFV Microlecture series and most recently part of the UFV health and wellness fair in downtown Chilliwack.
Whether it be a conference with 250 people or a local health fair, Nelmes is looking for opportunities to share her research and help build a positive public perception for those suffering from chronic pain.
If you would like to learn more about this study, please contact JoAnne Nelmes.
[quote]"Chronic pain doesn't come without emotional pain….I think everybody loses a piece of their life with it…. you lose a piece of your identity," anonymous research participant from Nelmes' study.[/quote]